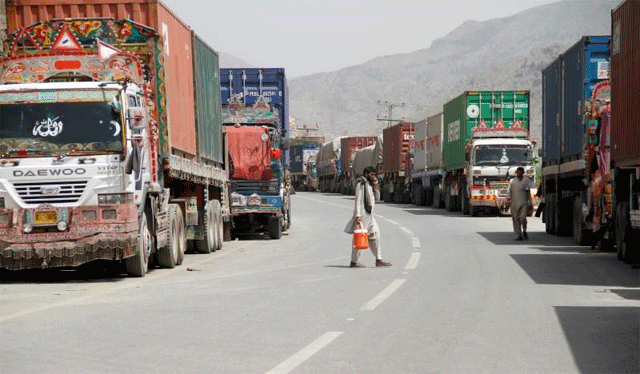 ---
The volume of bilateral trade between Pakistan and Afghanistan has dropped from its high of $2.5 billion to a mere $500 million in a few years, said a chamber official, urging official quarters on both sides to make efforts to increase the figure.
Zahidullah Shinwari, president of the Sarhad Chamber of Commerce and Industry (SCCI), said strained relations between Islamabad and Kabul are to be blamed for the 80% drop in the volume of bilateral trade, reported Khamaa News.

Afghanistan wants world powers to ramp up pressure on Pakistan: US envoy

"Relevant government officials need to play their role in enhancing Pak-Afghan trade and ties," said Shinwari as he addressed a gathering of businessmen and stakeholders in Peshawar.

Both sides have been involved in a heated exchange of accusations with Kabul blaming militants based in Pakistan for attacks on its country. Islamabad has denied all accusations.

While bilateral relations continue to be strained, the US sided with Kabul with President Donald Trump also accusing Pakistan of not doing enough to stop insurgency in Afghanistan.

Last week, returning from a UN Security Council visit to Afghanistan, US Ambassador Nikki Haley stressed that Kabul wants world powers to step up pressure on Pakistan.

Haley joined 14 other council envoys for talks with top Afghan leaders in Kabul over the weekend as the government considers holding peace talks with the Taliban to end decades of insurgency.

Experts eye new chance for warmer Pakistan-Afghanistan ties

"They feel confident that the Taliban will be coming to the table," Haley told reporters at UN headquarters.

While the peace talks will be Afghan-led, the Kabul government did request that the Security Council weigh in to bring Pakistan onboard. "They did ask us for consensus to put further pressure on Pakistan to come to the table and change their behaviour," Haley said.

President Trump has also frozen US payments of military aid to Pakistan, worth $900 million, saying Islamabad is not doing enough to target Afghan Taliban and the Haqqani militant group. A question mark also hangs over the provision of a further $1 billion worth of US military equipment to Pakistan.
COMMENTS
Comments are moderated and generally will be posted if they are on-topic and not abusive.
For more information, please see our Comments FAQ