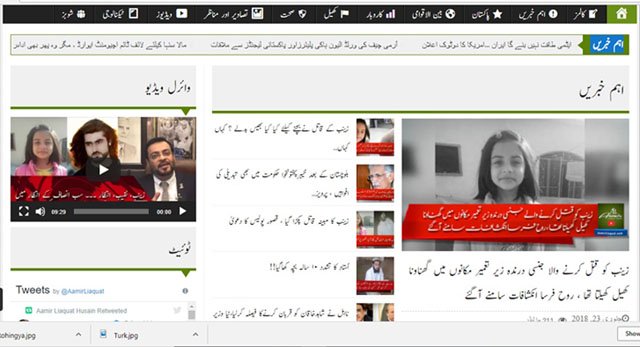 ---
Television host and former politician Aamir Liaquat Hussain has launched a news website after being barred by a court from appearing on television.

The Urdu language news website named "Aamir Liaquat Hussain news" (alhnews.com) was launched on January 14.

The recently launched web portal offers to its visitors a wide range of news categories, including domestic, world, health, business, sports, technology and showbiz.

The site also features the controversial TV anchor's columns previously published in a local Urdu language newspaper. Hussain's video commentaries on news and current issues as well as his childhood and family photographs are also available on the website.

Hate speech: IHC bars Aamir Liaquat from appearing on TV

Upon visiting the URL of the TV host's site provided on his official Twitter account (aamirliaquat.com) the message appears: "The site you are trying to access contains content that is prohibited for viewership from within Pakistan."

It suggests that the website has been banned within the country.

Last month, the Islamabad High Court (IHC) had barred Dr Aamir Liaquat Hussain from making any television appearances till further notice.

The court had ordered the Pakistan Electronic Media Regulatory Authority (Pemra) to ensure that the TV anchor did not appear on any TV or radio programme in any capacity for any type of talk, programmes, shows and advertisements till further orders.

Later, the Pemra had also issued a notice to all channels notifying them of the IHC decision.


عامر لیاقت کو آن ائیر نہ لیا جائے، پیمرا نے تمام نجی ٹی وی چینلز، ایف ایم ریڈیو سٹیشنز کو حکم جاری کر دیا pic.twitter.com/DBcXv5pjrm

— Report PEMRA (@reportpemra) December 13, 2017


Hussain has hosted different programmes on television including morning shows, game shows, talk shows, and special transmissions on religious occasions.

Despite enjoying a large following, he has regularly courted controversy and accused people of treason and blasphemy.