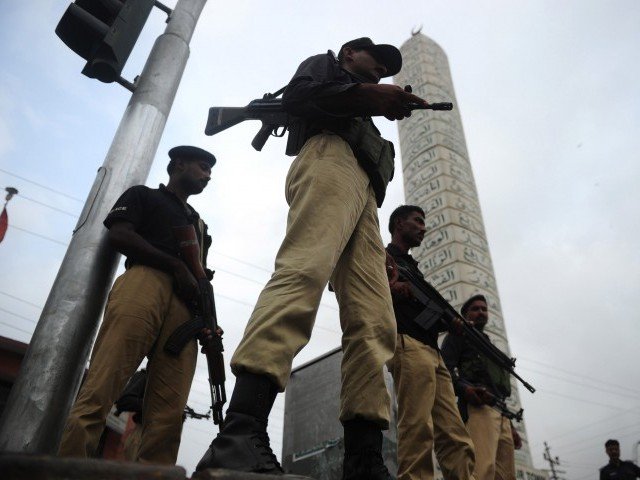 ---
KARACHI: The legal fraternity demanded on Tuesday the government to hold fair investigation into all the encounters claimed by the law enforcers, including those conducted by former Malir SSP Rao Anwar, to unveil their authenticity.

This demand came in a resolution adopted at a joint general body meeting of members of the Sindh High Court Bar Association (SHCBA), Karachi Bar Association (KBA) and District Malir Bar Association, along with the representatives of the Mehsud tribe in the city.

Former SSP Malir Rao Anwar also holds UAE Iqama

The meeting was held at the Karachi Bar Association's premises. Participants shouted slogans seeking hanging of the suspended SSP Anwar over the recent killing of Naqeebullah Mehsud in an alleged fake encounter by his team.

In his address, KBA President Advocate Haider Imam Rizvi said the legal fraternity had always been raising its voice against brutal practices such as the killing of Naqeeb in an alleged staged encounter by former SSP Anwar. However, he said such incidents would have never been repeated had those involved in the brutal incidents like May 12, 2007 and April 9, 2008 been taken to task.

Rizvi said those involved in recent killings of Mehsud and Intizar Ahmed should be taken to task. The case of Naqeeb killing should be made an example otherwise this brutal practise will not stop, he warned.

A representative of the Mehsud tribe, Qayyum Mehsud, said many people like Naqeeb had been killed in the same fashion in the city. He expressed his gratitude to the legal fraternity for helping the Mehsud community in this difficult time and sharing their burden. He also thanked them for taking notice of the incident.

Investigating Rao Anwar: Notices issued on plea for inquiry into 250 killings in 'encounters'

He said a judicial inquiry into the 397 encounters conducted by Anwar would unveil the truth.

Rehmat Khan Mehsud, the Mehsud tribe's head, said it seemed as if the police had been given a licence to kill the innocent people in fake encounters. He urged the lawyers' community to help them in unearthing the reality of Naqeeb murder in a fake encounter.

The lawyers' community was urged not to plead the cases of the policemen who were involved in such extrajudicial killings of innocent people.

Former KBA president, Naseem Qureshi, said it seemed as if the Sindh government was also part of the extrajudicial killing of Mehsud.

Inquiry officials claim Anwar not cooperating

SHCBA President Saleem Mangrio urged the legal fraternity to also chalk out the future course of action. He demanded that all the encounters claimed by the police should be investigated thoroughly, adding that the cases of missing persons should also be properly investigated.

A separate resolution was also passed that demanded an inquiry into properties and assets of the former SSP Anwar.