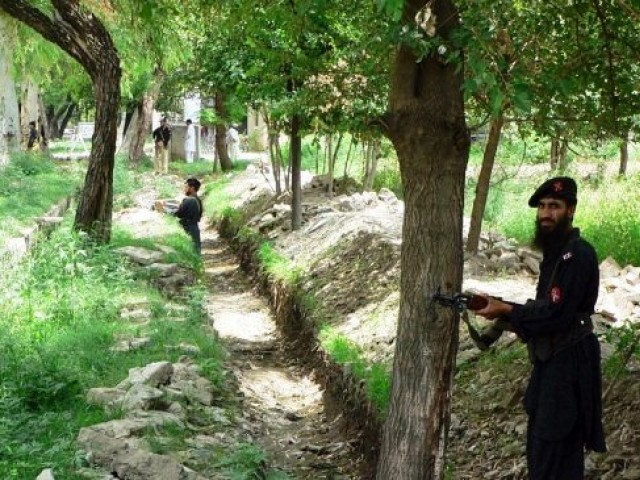 ---
ISLAMABAD: Unidentified people gunned down a wildlife guard in the Margalla Hills on Saturday afternoon.

Safeer Hussain, was on patrol duty on Trail 6 behind Faisal Mosque in the Margalla Hills when unidentified people reportedly opened fire and killed him on the spot.

An employee of Islamabad Wildlife Management Board (IWMB), Husain, was on forest patrol along with six other guards when they came under fire. While the rest survived unhurt, he was killed in the incident.

Mohammad Nasir, a fellow IWMB guard, told The Express Tribune that they were on a routine patrol near Nooran Di Gali village in the Margalls. "We were coming down the Trail 6 and as we reached near Nooran Di Gali we saw a few goats. We caught the goats to take them to the CDA picket because grazing is not allowed in the national park area. Just as we were herding the seized goats, shots rang and we ducked," Nasir said.

Fearing that some poachers might be hunting nearby, the guards stayed put for a few seconds as the echo of the gunshots died in the hills.

But as they got up brushing dust from their clothes, one did not. Nasir said Husain remained motion less and they moved him he collapsed.

"Husain, who was in front of me, was down. He had been hit by a bullet near his right eye," recalled Nasir.

The shaken guards immediately informed their superiors on the CDA picket and subsequently, police and rescue staff rushed to the spot.

As rescue officials moved the body, homicide unit's sleuths collected vital evidence and clues for later investigation besides taking pictures and video of the crime scene.

The body was shifted to Pakistan Institute of Medical Sciences. Hussain, 30, was a local Islamabad resident.

Talking to the media on Saturday evening, IWMB Member Vaqar Zakaria said there were threats to forest guards by some local people who were involved in illegal hunting and tree-felling in the Margalla Hills National Park. Zakaria said the board had been working for past one year with around 17 guards in a large area from Bari Imam to Shah Allah Ditta.

Inspector General Forests Syed Mahmood Nasir from the Ministry of Climate Change said a meeting was also held on Friday at IWMB on the issue of hunting and tree cutting in the area.

Police said they had launched investigation into the murder but it was too early to say who could be the suspect.

Published in The Express Tribune, January 21st, 2018. 
COMMENTS
Comments are moderated and generally will be posted if they are on-topic and not abusive.
For more information, please see our Comments FAQ