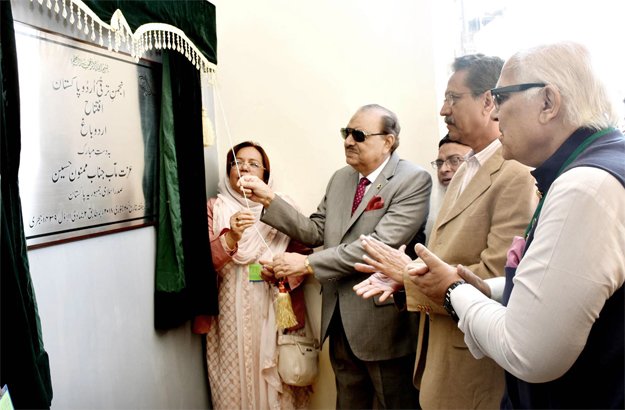 ---
KARACHI: President Mamnoon Hussain inaugurated on Saturday the Urdu Bagh Complex, a project of Anjuman-e-Taraqqi-e-Urdu.

President Hussain registered his support for the revival of Urdu as the medium of education across the country. This will not only pave the way for uniformity in the education system but also enable youths to make optimum use of their capacities and express their creativity, he said.

"Nations are identified on the basis of their language, history, cultural heritage and lifestyle," President Hussain said. He appreciated that certain universities of the country had realised the importance of Urdu and were making efforts to translate research works into the national language.

Remembering Intizar Husain who always grieved the great divide

President Hussain was of the view that promotion of Urdu must be a joint cause for all Pakistanis. He said that as president he had taken the lead and ensured that proceedings of meetings chaired by him were in the national language.

Karachi Mayor Wasim Akhtar was also present on the occasion along with writers and scholars. Tributes were also paid to the late Jamiluddin Aali, the anjuman's former president, at the ceremony.
COMMENTS
Comments are moderated and generally will be posted if they are on-topic and not abusive.
For more information, please see our Comments FAQ