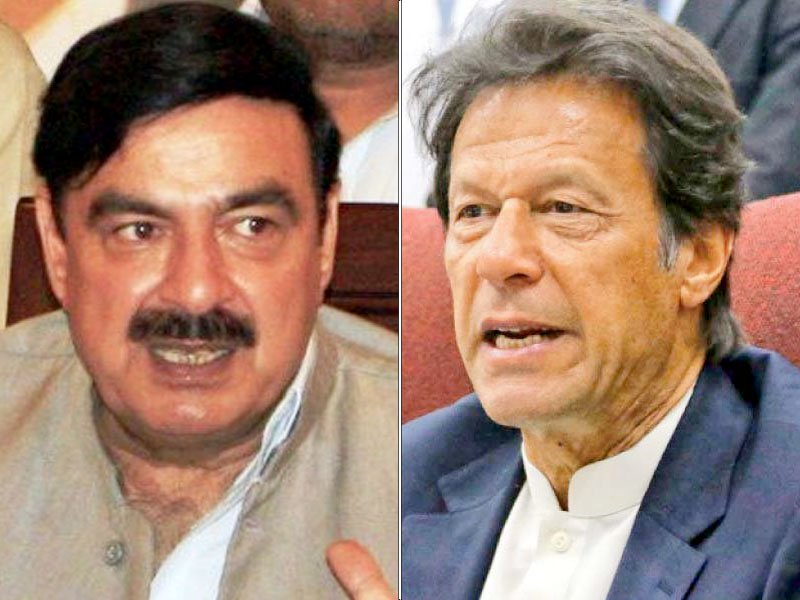 ---
ISLAMABAD: The National Assembly on Thursday condemned the Pakistan Tehreek-e-Insaf (PTI) chief Imran Khan and the Awami Muslim League (AML) chief Sheikh Rashid for cursing parliament in the multi-party opposition protest held in Lahore on Wednesday as it adopted a resolution against the two leaders.

The first hour of Thursday's session, known as the question hour, went on smoothly but right after start of the house business Aijaz Jakhrani of the Pakistan Peoples Party (PPP) highlighted Khan's and Rashid's comments on parliament in the Pakistan Awami Tehreek (PAT) led protest in Lahore a day earlier.

The AML chief in his fiery speech on The Mall had announced tendering his resignation as a lawmaker while the PTI chief had said he cursed the current parliament that "has violated very basic principles of democracy by voting in support of the corrupt Sharifs".

"You will not find a similar example in any democracy in the world where parliament endorses that a corrupt person can continue to lead a political party," the PTI chief had said.

Jakhrani's speech, condemning Imran's and Rashid's comments, was followed by critical speeches of other lawmakers amid PTI lawmakers protest. Later the house passed a resolution condemning the anti-parliament remarks.

"Parliament is a department of democracy, with which the country's stability and prosperity are connected," said the resolution moved by the Minister for Education Balighur Rehman and adopted by all parties except for the PTI.

Earlier, Leader of Opposition Khursheed Shah said the PTI chief and former premier Nawaz Sharif are attacking institutions, which, according to him, is not a good omen for democracy.


Combined opposition on The Mall


Referring to Khan's comment, Shah asked: "Do you want to lock parliament and invite dictators through such language." He said his party gave sacrifices for the same parliament and it was painful to hear such remarks.

"You cannot enter the corridors of power through such antics because you are deriding the same institution in which you want to enter for premiership," he added.

Speaking on the floor of the house, Minister for Foreign Affairs Khawaja Asif said Imran Khan's speech showed the height of his frustration. He said all the PTI lawmakers draw privileges and salaries from the same house against which they use such disrespectful language.

PTI to sweep upcoming elections: Imran Khan

"Let me tell this house that in 2014 it was [the PTI's] Shah Mehmood Qureshi who requested the speaker not to accept their resignations," he claimed.

"A privilege motion should be passed against them [Khan and Rashid] and [they] should be arrested if needed and presented before the house privileges' committee," he added.

Asif said the polls were around the corner and every politician would have time and opportunity to campaign but use of such language must stop.

"Whatever respect you have is because of this parliament," he said but in the same breath added: "Oh but you don't have any respect, honour or conscience." The PTI lawmakers were exasperated by the comment but they were not given the floor by deputy speaker Murtaza Javed Abbasi.

Muttahida Qaumi Movement's Sheikh Salahuddin said the comments against parliament were insulting and disgraceful. "Those who genuinely want to resign should do like Javaid Hashmi. They attack parliament, then the TV station and then make those remarks. It seems all this is being done on directions of someone else," he added.

Awami National Party's Ghulam Ahmed Bilour said he did not care about the AML leader but remarks coming from a leader like Khan were unbecoming to a person of his stature. He also remarked that interestingly the PTI chief cursed parliament but did not dare to say anything about other institutions.

Jamiat Ulema Islam-Fazl's Shahida Akhtar Ali said a person is identified by his action and behaviour, which depict his genuine character. "And Khan has shown his by use of such language," she added.