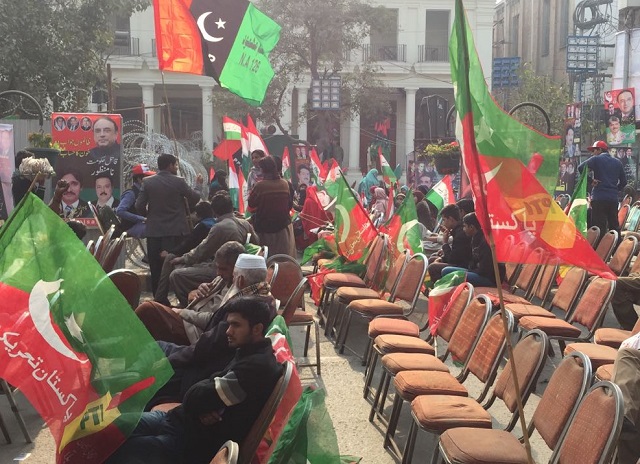 ---
LAHORE: The Lahore High Court (LHC), on Wednesday, granted permission to the Pakistan Awami Tehreek-led opposition parties to hold an anti-government power show till midnight over the Model Town carnage on Lahore's Mall Road.

The court has also barred the media to cover the rally after midnight.

Notices have been issued to federal and Punjab governments, Punjab inspector general of police (IGP), and deputy commissioner in the case on Tuesday.

The LHC full bench – headed by Justice Aminud Din Khan and comprising Justice Shahid Jamil Khan and Justice Shahid Karim Khan – had issued the order on a petition moved by Naeem Mir, a local trader.

The court also directed the Lahore police to provide security to the sit-in, but stated that the provincial government can take action if the sit-in were to become violent.

During today's proceedings, the court asked PPP's Sardar Latif Khan Khosa if it was a one-day protest. To which, Khosa said the government has not respected the court's decisions previously, and in case the situation does not change then the protest will continue until the desired results are achieved.

"No one should be allowed to take the law into their own hands", remarked Justice Aminuddin, reiterating that the sit-in should remain peaceful.

Rangers paramilitary force has been called in to keep law and order situation in check as opposition parties gear up for the protest demonstration.

Pakistan Peoples Party (PPP) and Pakistan Tehreek-e-Insaf (PTI) among other opposition parties have joined hands with Tahirul Qadri's Pakistan Awami Tehreek (PAT) to demand Punjab Chief Minister Shehbaz Sharif and Law Minister Rana Sanaullah's resignations over the issue.

The protest rally was earlier scheduled to kick off at noon and all routes from Charing Cross to GPO Chowk have been blocked for all traffic, Express News reported.




The Punjab Higher Education Department (PHED) has closed all public education institutions on Mall Road. A notification was also issued on Tuesday in this regards, which stated that Government College University, University of Punjab (Old Campus) and National College of Arts would remain closed today.

Imran, Zardari will address PAT rally from one stage: Qadri

The decision was made to avert any untoward incident and for students' safety.

All major business centres on Mall Road, Regal Chowk, Hall Road and Panorama were also kept closed to avoid any untoward incidents.

Meanwhile, DIG Operations Dr Haider Ashraf told the media that only unarmed police personnel in civvies will perform duty as per the security plan of the Lahore Police. Snap-checking has begun at all routes leading to Mall Roads while volunteers of political parties were also frisking those arriving to participate in the protest.

PAT-led protest: LHC issues notices to federal, Punjab govts

The provincial government has called in three companies of Punjab Rangers to guard the government and sensitive installations. The decision of deploying Rangers was taken at a security meeting chaired by Rana Sanaullah.

A police official, on condition of anynomity, had told The Express Tribune that there was a fear of violent clashes between police and the protesters as the participants of the protest were desperate to seek justice for the Model Town killings.




Pakistan Awami Tehreek and Pakistan Tehreek-e-Insaf activists confronted police during the Islamabad sit-in and also attacked vulnerable establishments.

A few days back, two men were killed while another was injured by police in a protest demonstration against a minor girl's rape and murder in Kasur. In order to deal with the situation, police had decided to deploy unarmed policemen on duty.

According to sources, contingents of police in uniform and their vehicles would be on standby and kept out of sight of the public.

These contingents would respond only in case of emergency. Police officials in civvies would remain among the protesters to keep an eye on any suspicious person or activity.

Unarmed policemen to man Mall Road procession

At least 2,000 police officials from other districts have also been called in for support.

To protect vulnerable establishmets such as Punjab Assembly, WAPDA House and Governor House, contingents of Rangers would be deployed near the site of the protest.




There was also a high-risk of a terrorist attack on the protest rally.

Last year in February, a suicide bomber targeted a protest of paramedics in which over a dozen people, including DIG Traffic Captain (retd) Ahmed Mubeen and SSP Zahid Nawaz, had lost their lives.

Meanwhile, addressing a press conference, Punjab Government Spokesman Malik Ahmad Khan said the threat of a terrorist attack could not be ruled out in case of this protest. "Ensuring foolproof security in such an unfavourable situation was an uphill task for Lahore Police," he said.

On Tuesday, Capital City Police Officer Amin Wains chaired a meeting at Qila Gujjar Singh Police Lines to chalk out a comprehensive security plan for the protest.

All the senior police officers were present on the occasion. Speaking on the occasion, he said at least 6,500 police officials would be deployed for security at the Mall Road procession.




He said they had engaged 2,000 police officials from other districts as well. Wains ordered police officials and even the security guards of senior police officers to remain unarmed during duty. He ordered them to take charge of their designated positions at 8:00am in the morning.

As far traffic arrangements were concerned, over 1,000 extra wardens would be deployed to ensure smooth flow of traffic. Diversions would be set on all roads leading towards Mall Road.

Saad Rafique on Mall Road rally

Federal Railways Minister Khawaja Saad Rafique took to Twitter to express his anger over opposition parties uniting under one umbrella, saying: "How come those calling each other thieves have joined hands? the world has seen and the real motives have also been revealed."


ایک دوسرے کو چور کہنے والے اکٹھے کیسے ہوگئے۔ دنیا نے دیکھ لیا۔ اور انکے اصل ارادے بھی بےنقاب ہو چکے ہیں۔

— Khawaja Saad Rafique (@KhSaad_Rafique) January 17, 2018
With additional reporting from Rana Yasif from Lahore
COMMENTS
Comments are moderated and generally will be posted if they are on-topic and not abusive.
For more information, please see our Comments FAQ