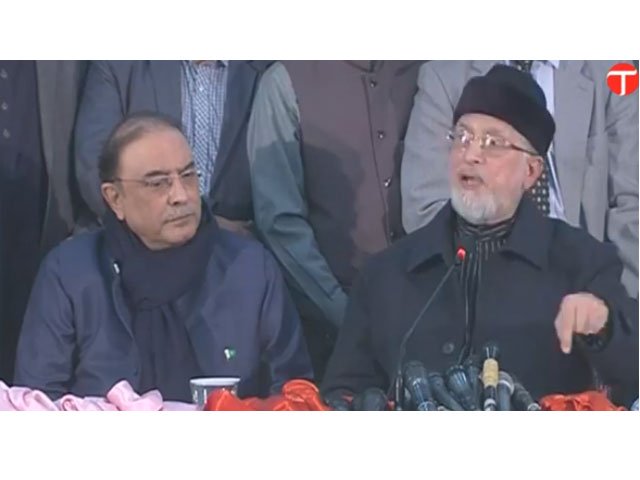 ---
LAHORE: Opposition parties are all set to put on a power show in Lahore today where, according to the Pakistan Awami Tehreek (PAT) chief Dr Tahirul Qadri, political arch rivals Imran Khan and Asif Zardari will share the same stage.

"[The PTI chief] Imran Khan and [the PPP Co-chairman] Asif Ali Zardari will take their stands on the same container. There will be only one container which will be shared by all leaders," Qadri told reporters on Tuesday after attending meeting of the steering committee of opposition parties.

The committee met to finalise plan for the protest that aims to force Punjab Chief Minister Shehbaz Sharif and Law Minister Rana Sanaullah to step down over their alleged role in the June 2014 Model Town killing of 14 PAT workers.

PAT-led protest: LHC issues notices to federal, Punjab govts

Those who attended the Tuesday meeting included PTI's Jehangir Tareen and Aleem Khan, AML's Sheikh Rashid, PPP's Qamar Zaman Kaira and Manzoor Watto, PML-Q's Kamil Ali Agha, JI's Liaqat Baloch and PAT's Hassan Muhiuddin, Khurrum Nawaz Gandapur and Bishrat Jaspal.

The PAT executive members and other political parties were not ready to give any hint about the oppositions' next move but according to an insider, "The plan to overthrow the Punjab government has already been chalked out and will be made public during Qadri's address."

Dr Qadri also endorsed that on Wednesday he would announce the future strategy for the cause. "Now we are not demanding the resignations [of Punjab Chief Minister Shehbaz Sharif and Law Minister Rana Sanaullah]. Now they will tender their resignation on their own," he said.

He also repeated his positions that Justice Baqar Ali Najafi's report on the Model Town tragedy had held Shehbaz Sharif and his team responsible. "And now they cannot escape justice. It is a movement to eliminate the Sharif family and to end their brutal system of Punjab," he added.

The PAT chief said Shehbaz Sharif had spent 11 billion rupees on different development projects in Punjab. "But I ask why living standard of the people of Punjab has not risen?"

Dr Qadri revealed that PAT has tapes of secret meetings between Shehbaz Sharif and his colleagues. "We will reveal these tapes during our protest," he added.



I can unite Zardari, Imran whenever I want: Qadri

He said the opposition has divided its protest into two sessions. "The first session will end before Maghrib prayer and the second session will start after it. Now people will see how we send them to jail tomorrow," he concluded.

Meanwhile, the PAT has made all arrangements for the protest and The Mall has been closed for all general traffic with the PAT volunteers taking charge of the security arrangements. Later, in the evening Dr Qadri and Asif Ali Zardari also had another meeting.

Zardari later said the blood of Model Town victims would not go to waste. "The rule of Sharifs is about to end and the Lahore rally will be the beginning of the Shehbaz's ouster," the PPP co-chairperson claimed.
COMMENTS
Comments are moderated and generally will be posted if they are on-topic and not abusive.
For more information, please see our Comments FAQ