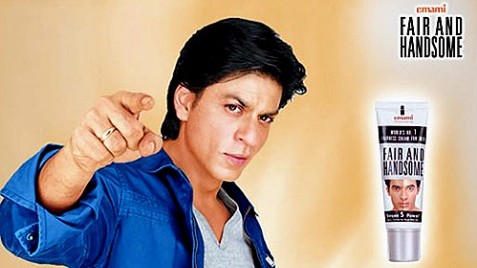 ---
NEW DEHLI: Tall and dark? Then you are not likely to be deemed handsome, going by current trends, even though India has always worshipped dark gods. The metrosexual look is getting preference - and that means men are chasing fairness creams and chemical peels, thanks to media and advertising playing a role in promoting them.

Commenting on the Indian man's growing fascination for fair skin, Apollo Hospital senior cosmetic surgeon Anup Dhir told IANS: "I get around 8-19 inquiries every month from men to improve their skin tone and help them look fairer.

"There are times when a man accompanying a woman client ends up taking skin-related treatments after consultation."

Dark gods like Krishna and Rama are deeply embedded in the Indian psyche. But the country has always shown a bias in favour of light skin as far as mere mortals go.

Ever since the macho look was replaced by the metrosexual look, men have started taking a greater interest in their appearance. From visiting parlours for manicures and pedicures to spas, they are concentrating on every aspect of grooming. And that means falling for fairness products.

"Buying fairness creams or getting regular massages, facials, manicures and pedicures done is just an indicator that today men, like women, want to pamper themselves," psychiatrist Sanjay Chugh told IANS.

Various cosmetic brands have launched fairness creams for men and with Bollywood celebrities like Shahid Kapoor and John Abraham endorsing them, they have become a craze.

In 2005, Emami was perhaps the first one to launch the men's fairness cream Fair & Handsome. Two years later, the company roped in superstar Shah Rukh Khan as its brand ambassador.

This was followed by HUL's Fair & Lovely Menz Active that came in 2006 and the very next came Nivea for Men Whitening Moisturiser and Nivea for Men Multi-White Whitening Facial Foam. The same year actor Anuj Saxena's company Elder HealthCare came out with Fair One Man Cream.

In 2009 cosmetics brand Garnier India entered men's skin care with the Men's Powerlight range that also includes face wash and moisturiser. According to its marketing manager Richa Singh, the grooming habits of Indian men have evolved.

"As per research, the need to look and feel good is extremely high. Skin care is an integral part of grooming and fairness has been identified as a principal demand in the male grooming market. We identified the consumer need and offered a specialised skin care range for men."

According to a report, the men's fairness products market is estimated at Rs175 crore (nearly $40 million) and is growing at the rate of 25 percent. While the women's fairness market is growing at 7 to 8 percent.

Chugh feels the media has played a major role in pushing men in this direction. He couldn't be more right, as ads promoting fairness creams seek to portray that dark skinned guys lack confidence and are not as successful as the fair-skinned.

So is it really possible to lighten skin tones with fairness products? "Yes, you can. While skin colour is largely genetic, it is also greatly affected by sun exposure, hormonal changes and various other factors," Mumbai-based anti-aging medicine specialist S Ali Mohammad told IANS.

"These lotions and creams contain hydroquinone, a chemical which inhibits melanin and lightens the skin. Since melanin is what causes darker skin, you will notice your skin is lighter with regular use."

Experts suggest that one can also opt for chemical peels to get better and faster results.

"It is possible to lighten your skin to your original colour. That is usually judged by the colour of your chest mid part area," said Mumbai-based dermatologist Priyanka Sutariya.

"These peels help to remove several layers of skin, depending on the strength of your peel, revealing skin below that is lighter, fresher and brighter."

The prices of these peels start from Rs2,000 (over $40) and a person has to take six to eight sessions to achieve desired results.