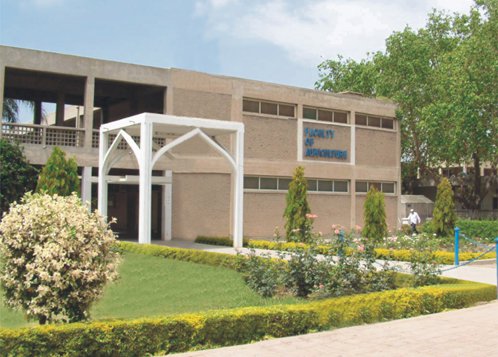 ---
FAISALABAD: In a bid to strictly observe biosafety, sanitary and phytosanitary measures, the Ministry of National Food Security and Research (MNFSR) and University of Agriculture, Faisalabad (UAF) have agreed to further strengthen the coordination to counter growing pests and insect pathogens in imported agriculture items that are causing loss of billions of rupees to the national exchequer. Besides, the pests are posing numerous challenges to human, plants and livestock health, and depleting the environment, a press release issued by UAF stated on Friday.

Mechanical cotton picking to help address shortage of labour

The pledge was made during a three-member committee visit to the varsity for the assessment of technical capacity of the UAF. The committee, which was constituted by the National Biosafety Committee (NBC), MNFSR to examine the present capacity and indicate the loopholes in the befitting implementation of biosafety protocols at an organisational level.

Food Security Commissioner Syed Waseemul Hassan headed the committee. Bacha Khan University Charsadda Vice-Chancellor Syed M Saqlain Naqvi, Centre for Excellence in Molecular Biology, Lahore Director Tayyab Husnain and others were also present.

The committee called on UAF Vice-Chancellor Prof Muhammad Iqbal Zafar and held meeting with Institutional Biosafety Committee (IBC). The committee also paid visit to Centre for Advanced Studies in Agriculture and Food Security (CAS-AFS) and participated in a briefing on biosafety and one-health programme. CAS-AFS Director Iqrar Ahmad Khan briefed the committee about biosafety measures in 12 research labs and other components of the centre.

'Pakistan needs to use its resources to prosper'

While addressing the meeting, Food Security Commissioner Waseemul Hassan said that Pakistan as a responsible country was signatory among the 198 countries of the world regarding strict compliance of the International Plant Protection Convention.

He said, "The country is facing problems in the market access due to non-compliance of the convention." He expressed grave concern on unchecked imported items that bring pests and other insect pathogens posing new challenges to agro-exports.

Published in The Express Tribune, December 30th, 2017.
COMMENTS
Comments are moderated and generally will be posted if they are on-topic and not abusive.
For more information, please see our Comments FAQ