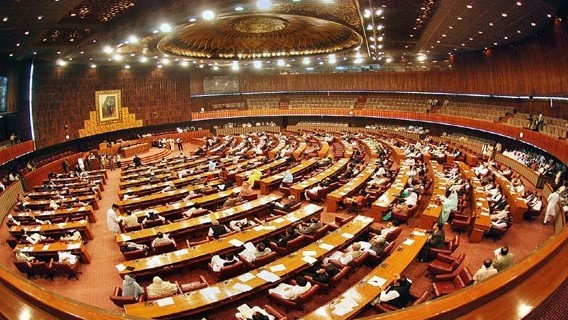 ---
ISLAMABAD: The National Assembly's Standing Committee on Education asked the Federal Directorate of Education (FDE) for comprehensive reports on staff recruited in 2009-10.

A meeting was held on Monday chaired by MNA Abid Sher Ali of the PML-N in which he asked FDE's Director General Dr Shaheen Ali Khan to present comprehensive notes about the hiring of educational and noneducational staff. He asked the director to report any irregularities, nepotism or out-of-turn promotion. Officials of the Ministry of Education told the committee that the FDE recruited more candidates than permitted under rules.

Joint secretary of the education ministry, Shahzad Malik, said that more people had been hired than required. "We have received complaints from dozens of employees. They claim to have been hired months ago but still do not know where to go, what office to report to and what to do," said committee chairman Abid Sher. He asked the FDA to justify the hiring of extra directors. Dr Shaheen Ali Khan, Director General of FDE said that the recruitment had been done before she joined three months ago.

She speculated that the directors had probably been hired to better manage the work load. She said the federal capital had more than 418 educational institutions and before the recruitments, only five directors had been managing the entire area. She promised to study the matter in detail and submit a report in the next meeting. Minister of State on Education, Ghulam Fareed Kathia, said that there had also been allegations of some irregular promotions of officers in the Ministry of Education.

He asked that detailed staff reports of the ministry be prepared as well. Shaheen Khan told the committee that the implementation of corporal punishment bill, 2010 was also awaiting a final approval by FDE. Officials pointed out that the sub-committee responsible for preparing reports on the Islamabad Capital Territory Private Educational Institutions Ordinance 2007 and Compulsory School Attendance Bill 2008, had not done so. They were supposed to present suggestions and feasibility reports.

Meanwhile, the Standing Committee on Education will meet on Tuesday to discuss the authenticity of HEC educational degrees possessed by parliamentarians. NUML administration will brief the committee about the violent incident between Professor Tahir Nadeem Malik and Brig (Retd) Obaidullah Ranjha, former registrar of the university.

They will also consider the firing that took place between two rival groups of students in IIUI, Islamia University Bahawalpur. Shamshad Sattar Bachani, Begum Nuzhat Siddiq, Farzana Mushtaq Ghani, Dr Nadeem Ahsan, Joint Secretary Law, Abdullah Khan and other members of the education ministry and the law and justice ministry attended the meeting.

Published in the Express Tribune, May 25th, 2010.
COMMENTS (1)
Comments are moderated and generally will be posted if they are on-topic and not abusive.
For more information, please see our Comments FAQ