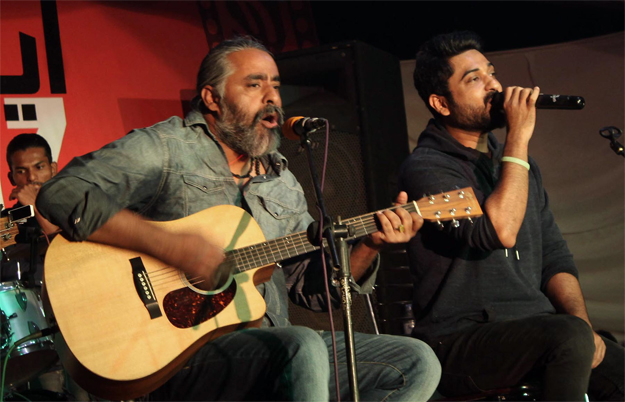 ---
OUR CORRESPONDENT: On cold and breezy evenings, a public park in Hyderabad that is home to a museum became a venue of gathering over the last six consecutive days to celebrate legendary 20th century Sindhi poet Shaikh Ayaz. Dubbed the 'Ayaz Melo [Ayaz Festival]' by the organiser, Khanabadosh Writers' Café, the event concluded Monday night.

During its course, the festival allowed people to reconnect with or introduce themselves to Ayaz's poetry, its explicit messages and implicit connotations dealing with love, peace, harmony, rebellion, nationalism and political struggle.

At the gathering, some felt mesmerised in the poetic recitations while others reveled in the musical nights. However, most seemed drawn to the event to get a further insight into the life and works of Ayaz, a poet who simultaneously dealt with the themes of romance and rebellion and is credited for evoking Sindhi nationalism during an authoritative era.

Ayaz (1923 to 1997) authored and translated over 50 books with revolution and romance as the dominant themes. He lays buried at a tomb alongside Karar Lake located near the shrine of Hazrat Shah Abdul Latif Bhitai in Bhit Shah, Matiari district.

Sindh Literature Festival kicks off

 

Influence on political movements

Dr Dodo Maheri, a veteran nationalist, said that during the 1940s two political thoughts pervaded the Subcontinent. One viewed India as a land of Hindus and Muslims which should be divided on a religious basis and the other saw India as a country of multiple religions, sects, cultures and languages which could co-exist in harmony. Dr Maheri argued that Ayaz subscribed to and preached the latter.

"He stood for and preached secularism," said Ayaz Latif Palijo, general secretary of the Grand Democratic Alliance, who is also well versed in poetry. Political mayhem in the 1950s made people of Sindh feel disoriented, he said, adding that "Sheikh Ayaz, through his poetry, grabbed the arms of Sindhis and put them on a course of struggle for their rights".

His poetry features rebellion against tyranny, and outdated norms and practices, Palijo said. "He challenged the ruling status quo when the political parties and student unions weren't even organised in Pakistan."

Palijo also praised the poet's legal expertise as a criminal lawyer and suggested that his life as a lawyer should also be explored. Palijo recited Ayaz's poems on love and nature in the festival.

Sindhi literary giant Ibrahim Joyo passes away

Commenting on the profound influence of Ayaz on Sindhi nationalism, Ameer Azad, a nationalist leader of a faction of Jeay Sindh Tehreek, said the meetings and programmes of various nationalist parties start with that recitation of Ayaz's poetry.

 

Association with SU

Speakers also highlighted Ayaz's contributions to University of Sindh (SU) during the festival.

Prof Aijaz Qureshi, a contemporary of Ayaz, said when Ayaz headed SU, he tried to transform the institution like Rabindranath Tagore's Shanti Niketan.

"SU had become a hub of Sindhi nationalism. Zulfikar Ali Bhutto requested Ayaz to accept the vice-chancellor's (VC) position and use his influence as a paramount poet to subdue the political currents and channel the students towards education," Prof Qureshi said. He lamented that the prevalent conditions did not allow the poet to achieve that objective despite his relentless efforts.

Protecting freedom of expression: 'Bill shows govt's fear of creative minds and art'

Prof Dr Adal Soomro informed the festival that Ayaz consulted with friends in Sukkur before accepting Bhutto's offer and some friends gave him a counsel of despair. "But he went ahead with the job, dreaming of transforming SU but the dream wasn't fulfilled."

"As a lawyer, I felt independent. But the period of vice-chancellorship made me feel caged," Soomro, another contemporary of Ayaz, quoted the poet as he regretted the decision of accepting the job of VC.