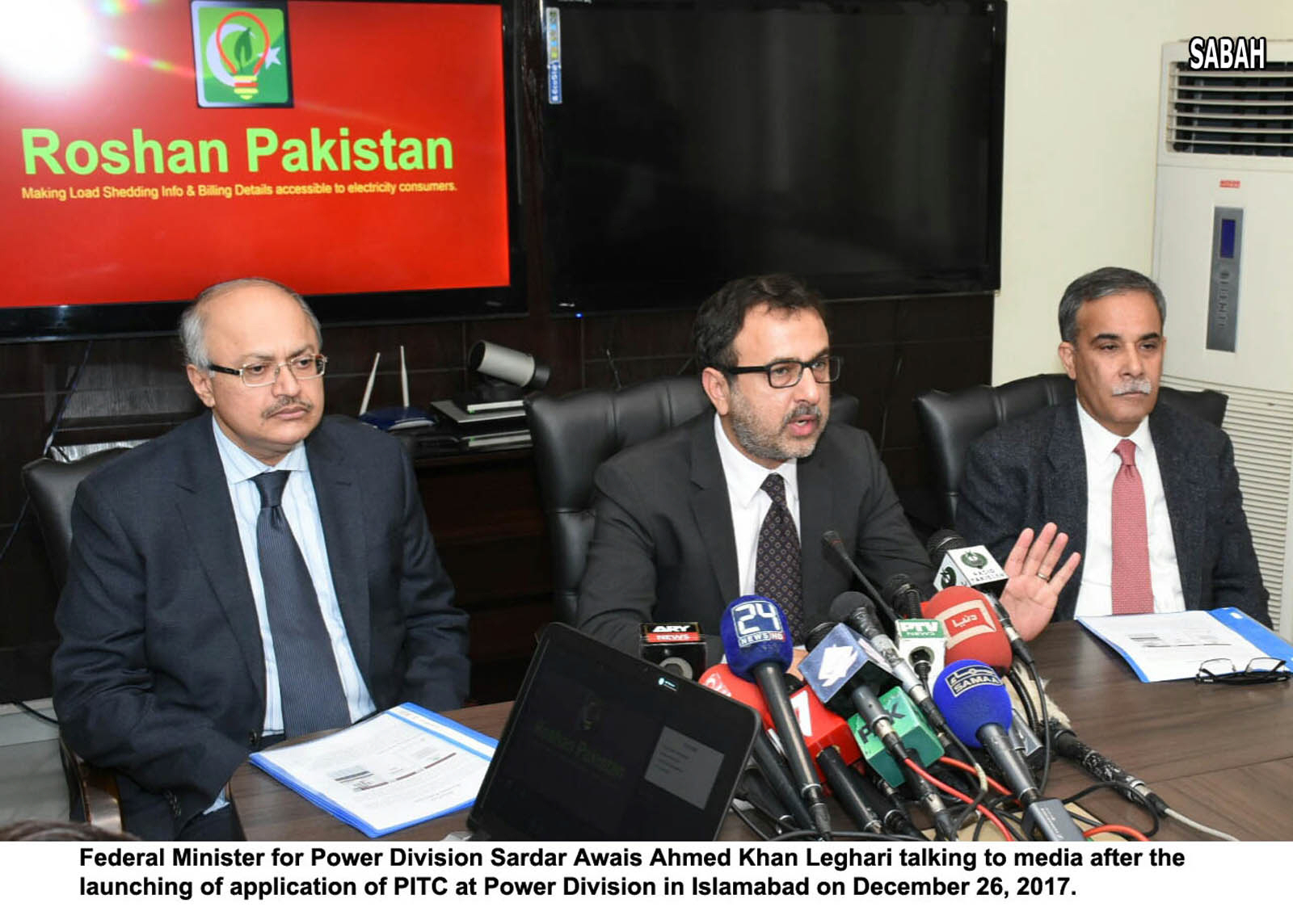 ---
ISLAMABAD: Federal Minister for Power Division Sardar Awais Ahmad Khan Leghari has announced that some heads will roll in the electricity distribution companies next month due to their poor performance.

He was speaking at a press conference on Tuesday at the launch of mobile application "Roshan Pakistan" designed to give consumers access to vital information about their electricity bills and the supply situation.

Responding to a question about the measures taken to recover the receivables of power companies that had gone up to Rs800 billion by September 30, 2017, Leghari clarified that collection of the receivables was one of the key performance indicators set by the government.

Of the Rs800 billion in receivables, Rs600 billion was due to be paid by the private sector.

"We are reviewing the performance of distribution companies and some of the heads will roll in January," he said.

Replying to another question, Leghari boasted that for the first time, information about the power sector was being shared with the people. He believed that the move would help counter the propaganda by vested interests about the duration of load-shedding in different areas.

Power Division officials oppose K-Electric's tariff review demand

The minister explained that any consumer could get an update through the app about billing, net metering and feeder-wise electricity supply. The app will also serve as a bill calculator.

He said the app would provide information about all the 10 distribution companies and all consumers could gain access by entering the consumer number.

Leghari emphasised that the Power Division was proud that it had added 4,500 megawatts of electricity to the national grid and by next summer, power generation would be more than the demand.

He declared that the overbilling problem would be resolved after a piece of legislation in that regard was passed by the Senate.

The bill, which allows three-year imprisonment for overbilling, has already been approved by the National Assembly.

When asked what action was being taken against black sheep in the power sector that were facilitating theft, the minister retorted that black sheep were not only in the power companies, they also existed among consumers. At present, 5,297 feeders were free from load-shedding, he said.

Energy ministry looks to reduce tariff for power production at sugar mills

Earlier, highlighting main features of the mobile app, Power Division Secretary Yousuf Naseem Khokhar said it was a bilingual app that would facilitate consumers in both English and Urdu languages.

Replying to a question, the secretary said 11,000MW of electricity would be added to the system when projects like 1,410MW Tarbela IV extension and 969MW Neelum-Jhelum hydroelectric power scheme were completed by June next year.

An official told journalists that access on the Roshan Pakistan app had not been given to 60-70 feeders that existed in sensitive areas of the country.
COMMENTS (1)
Comments are moderated and generally will be posted if they are on-topic and not abusive.
For more information, please see our Comments FAQ