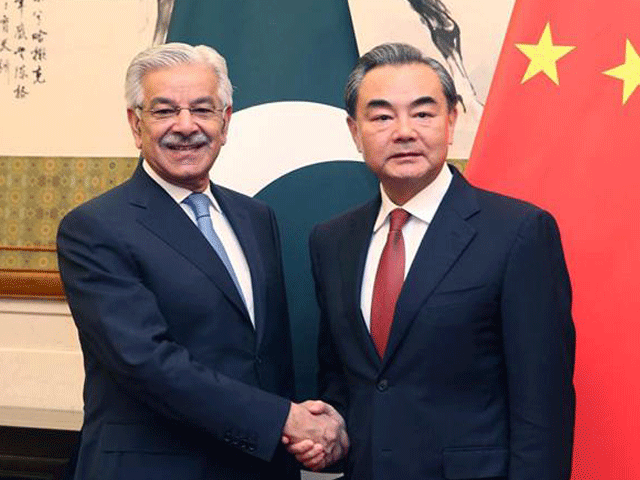 ---
Pakistan, Afghanistan and China reaffirmed on Tuesday their support for a broad-based and an inclusive process to bring peace to the war-torn Afghanistan and stressed the need for dialogue between the government in Kabul and the Taliban militants.

According to a joint press release, the foreign ministers of the three regional nations, at a meeting in Beijing, also agreed to strengthen counter-terrorism coordination and cooperation in an effort to combat all terrorist organisations and individuals without any discrimination.

Khawaja Asif joined his counterparts, Wang Yi of China and Salahuddin Rabbani of Afghanistan in the first-ever trilateral China-Afghanistan-Pakistan Foreign Minister's Dialogue in Beijing on Tuesday, Express News reported.

"The three countries [Pakistan, China, and Afghanistan] are united to defeat terrorism in the region. Both Pakistan and China want peace in Afghanistan," Foreign Minister Wang told reporters after the meeting.

"Pakistan and China are in favour of talks between the Taliban and the Afghan government," Wang added, inviting the Taliban to be a part of the regional peace process. For peace in region, he said, it is important to eliminate terrorism.



Kabul urges Pakistani Ulema role in ending Afghan war

The Chinese foreign minister stressed that "dialogue is a natural phenomenon between the three countries and we are working towards maintaining security in the region". Wang announced that Pakistan and Afghanistan had agreed to mend their strained relations.

CPEC extension to Afghanistan

Wang said that Beijing and Islamabad will look at extending the China-Pakistan Economic Corridor (CPEC) to Afghanistan, adding that the $57 billion project could benefit the whole region and act as an impetus for development.

Afghanistan has urgent need to develop and China hopes it can join inter-connectivity initiatives, Wang told reporters. Rejecting India's objections, Wang said the CPEC had nothing to do with territorial disputes.

"So China and Pakistan are willing to look at with Afghanistan, on the basis of win-win, mutually beneficial principles, using an appropriate means to extend the China-Pakistan Economic Corridor to Afghanistan," he said.

Speaking at the press conference, Khawaja Asif said that China and Pakistan are committed to regional stability, and the CPEC. However, he did not directly mention the prospect of Afghanistan joining the mega project.

"The successful implementation of CPEC projects will serve as a model for enhancing connectivity and cooperation through similar projects with neighbouring countries, including Afghanistan, Iran and with central and west Asia," he said.

Emphasising the importance of stability for progress and prosperity, the foreign minister said that Pakistan wants a peaceful Afghanistan to facilitate safe repatriation of Afghan refugees currently in Pakistan.

Counter-terrorism cooperation

The press release said that the three sides reaffirmed that a broad-based and inclusive peace and reconciliation process, which is "Afghan-led, Afghan-own", and fully supported regionally and internationally, is the most viable solution to end the violence in Afghanistan.

The three sides agreed to strengthen counter-terrorism coordination and cooperation in an effort to combat all terrorist organisations and individuals without any discrimination. The countries are expected to communicate and develop a memorandum of understanding on counter-terrorism cooperation.

Asif asks US not to threaten or blame Pakistan

The three sides also reiterated their commitment to improving their relations, deepening mutually beneficial cooperation and advance connectivity under the Belt and Road Initiative, the press release said.

The three countries also agreed to "a win-win trilateral economic cooperation" with an incremental approach, starting from the easier initiative to the more difficult ones. They agreed to continue economic development cooperation in areas of mutual interest and expressed willingness to strengthen people-to-people contacts.

It was also decided in the meeting that the second China-Afghanistan-Pakistan Foreign Ministers' Dialogue will be held in Kabul in 2018.

The trilateral dialogue is part of Chinese President Xi Jinping's initiative for strengthening relations and developing cooperation among the three countries in the region.

Earlier, on the sidelines of the tripartite meeting, Asif held a bilateral meeting with his Wang, according to Radio Pakistan.