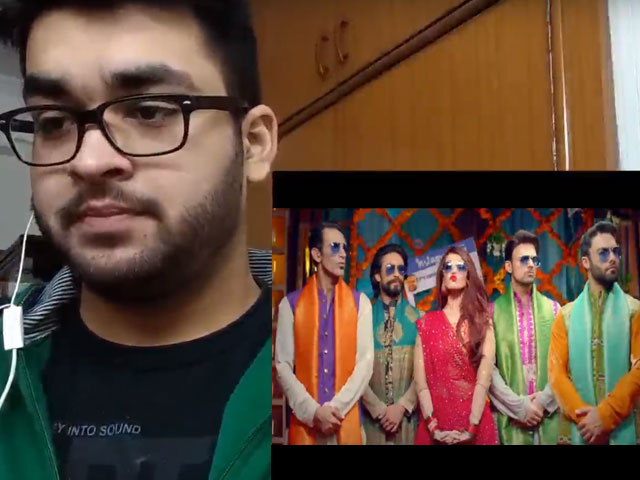 ---
KARACHI: For someone who goes through heaps of reviews every day for any upcoming movie, or even a song, it gets quite exhausting to find something that's remotely different from two sets of ideas that are thrown our way every other day.

The song or the trailer is either good, or extremely tasteless.

With so many Pakistani movies making their way onto big screens, leaving my national folks to criticise every minuscule error, I have to say, I always wondered how someone who's not a Pakistani thinks about this revival of the film industry.


Well, to be more specific, what someone from across the border might think as they happen to have a massive film industry that definitely influences our thoughts and ideas of any movie.

One fine day, as I was scrolling down my social media feed, I came across a YouTube link of someone who had reviewed Hareem Farooq, Ali Rehman Khan's upcoming venture, Parchi's trailer.

Out of pure curiousty, I clicked on the link and watched the video till the very end.


His review of the trailer made me click on many other videos and what stuck with me was how excited he got as he watched the Pakistani songs and trailers.

He not only reviewed, Parchi, but he also gave his thoughts on the Ahsan Khan and Neelum Muneer starrer Chupan Chupai, Urwa Hocane and Bilal Ashraf's Rangreza, Jawani Phir Nahi Ani and many more.

So, I knew I had to talk to him and get his two cents on Pakistani movies and artists.


"Let's just call me SuperGuy if you don't mind," he laughed. "I get way too nervous while recording the reviews."

He seemed surprised when I informed about a huge Bollywood fan following in Pakistan. "First, I didn't know that Bollywood has a huge fan following in Pakistan so that's news to me," he said.

However, he did confess that he is utterly grateful by all the positive response he's been getting from Pakistan "But, what's amazing is that I am really receiving a lot of love from all of you and it is really, really amazing and surprising."


Shifting his focus on Pakistani movies, he said, "Pakistani movies are really good. The songs are really catchy. The stories are really good. Just by looking at the trailers of some movies I get excited."

When asked if there is any particular area the directors and producers need to focus more on, he went on to say, "The only thing I didn't like is that there are so, so many beautiful places in Pakistan and yet the movies or the songs aren't completely exhibiting them like they should."

He went on to add, "I haven't watched any movie, I have seen trailers, but I think they should utilise more of their beautiful places so the movies can help promote tourism."


"The trailers of all the movies I saw, some had a really good story line, some had a lot of humor and some had good fighting scenes. And the songs, they were really catchy and full of energy and happiness. So there's nothing to be negative about, right?" he asserted.

Three Pakistani starlets debuted in Bollywood this year. When asked who he thought performed the best of the lot, he said, "I saw Raees and Hindi Medium. Both movies were amazing and amazing actresses. They acted so well and were so natural. Never a once did I feel like they were over-reacting."

Super Guy is really excited for Parchi and hopes it releases soon online.

Have something to add to the story? Share it in the comments below. 
COMMENTS (1)
Comments are moderated and generally will be posted if they are on-topic and not abusive.
For more information, please see our Comments FAQ