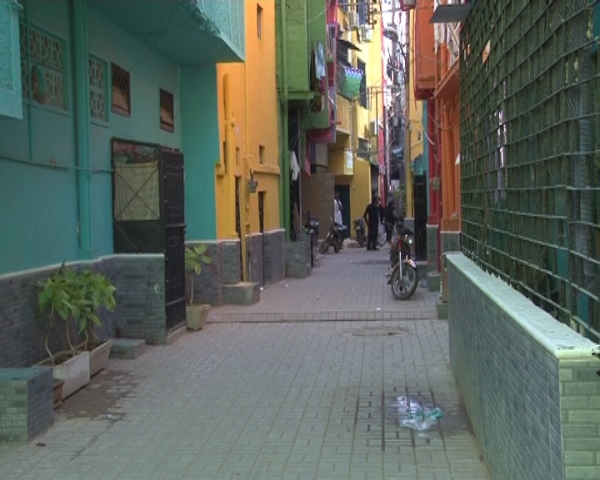 ---
KARACHI: The streets of Lyari came alive on Monday. Baghdadi Lane No 10 was turned into a model street when the façade of its buildings were painted the colours of a rainbow.

The Kiran Foundation, a non-governmental organisation, laid bricks on the street and beautified the area

Tiles were fixed on the outer walls of around 22 houses situated on the street. The walls were green, blue, yellow and other beautiful and bright colours. Some walls were also decorated with patterns.

The colourful display entranced local children, who happily ran from house to house, examining their new street art. Some even took selfies in front of the walls.

The residents of the neighbourhood said they have been living in the area for a long time. According to them, the streets of Lyari were once filled with garbage and sewage but now initiatives like this are creating a new environment for them.

Pakistan's first women's boxing ring under construction in Lyari

The district municipal corporation chairman and the vice-chairman of the area were requested to clean the street many times, claimed the residents, but nothing was ever done. Now the street has been cleaned with the help of the Kiran Foundation.




The street, which was once a lane through which people hurriedly walked, is now a place where people come to take a stroll and look around. The residents say that they hope the other streets of Lyari are also beautified in a similar manner.

Shama, a resident, says she has been living in the area for over 20 years and ever since she can recall, the area has been facing cleanliness issues. It was difficult to pass through these streets, she said.

Kiran Foudnation Admin Incharge Saima Khatri told Express News that they want to change the perception that Lyari is an area that is only home to gangs and spread the idea that it a beautiful place.

She said the project was started eight months ago. "We should keep our streets as clean as we want our houses to be," she said. Khatri explained that the Kiran Foundation staff and youth of the area have made the area beautiful.




She said plants will be planted in the street and hopefully people will be inspired to make other streets beautiful as well.

Mehroze, a volunteer who painted the streets, said she has contributed to beautifying Lyari.