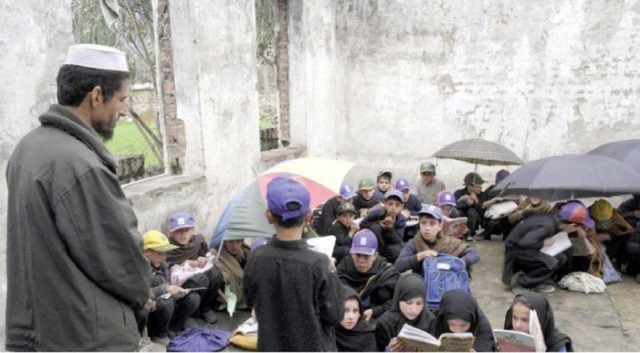 ---
LAHORE: As many as 2,000 school buildings across the province are in a dilapidated condition, endangering the lives of thousands of students and staff, claims Pakistan Tehreek-e-Insaf (PTI) while submitting a resolution in the Punjab Assembly.

The resolution tabled by Deputy Opposition Leader Muhammad Sibtain Khan on Saturday called upon the government to take immediate action to redress the issue.

Khan said thousands of children study in schools that were in bad shape. "The authorities are playing the role of a silent spectator or perhaps waiting for any unpleasant incident to occur."

The fact about the poor condition of school buildings was revealed in the education department report, which drew the attention of the concerned authorities towards the issue.

Khan said that the lives of students were at risk due to the dilapidated condition of the school buildings that needed to be reconstructed immediately.

Khan, through his resolution submitted in the Punjab Assembly, demanded that the provincial government reconstruct at least 2,000 dilapidated school buildings as it was the matter of lives of thousands of children and staff.

Two months ago, on November 18, PTI Legislator Malik Taimoor Masood submitted an adjournment motion in the Punjab Assembly, demanding the government take an immediate action regarding dilapidated 2,300 buildings of government schools across the province.

Masood, in his adjournment motion, contended that it was a pity that officials were not directed to carry out renovation work despite the availability of funds. He added that the lives of the students were at risk due to a non-serious attitude of the education department.

He claimed that about 915 school buildings in 36 districts were completely shabby while 1,886 were in the category of dilapidated buildings.

He said that the parents of the children were also seriously concerned about the issue. "The students, as well as their parents, demand the government to take immediate notice of the situation.

Tributes paid to martyrs of armed forces

Meanwhile, the treasury benches demanded of the Afghan government to not allow anyone to use it's soil against any neighbouring country as it would affect relations between Pakistan and Afghanistan.

Pakistan Muslim League-Nawaz legislator Hina Pervez Butt proposed that the House pay tribute to army officials Munir, Irshad Hussain and Haq Nawaz who recently embraced martyrdom in a firing incident in Mohmand Agency.

She said that the sacrifices of the armed forces would not go in vain. She added that the martyred were the actual heroes of the nation and the people should be proud of them and their sacrifices. "The Afghan soil is being used against Pakistan."

Published in The Express Tribune, December 24th, 2017.
COMMENTS
Comments are moderated and generally will be posted if they are on-topic and not abusive.
For more information, please see our Comments FAQ