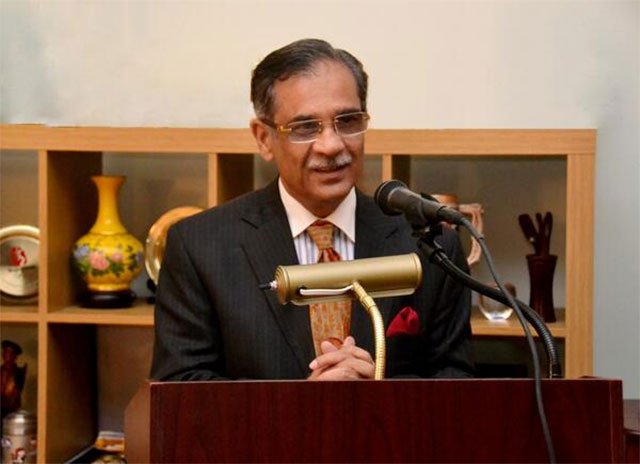 ---
KARACHI: The Supreme Court (SC) took on Saturday notice of the poor conditions of hospitals in the province and directed the provincial health secretary to produce a record relating to the public and private medical colleges.

Chief Justice of Pakistan Mian Saqib Nisar, while taking suo motu notice of the matter during the hearing of cases at the SC's Karachi Registry, directed the secretary to also visit at least five private hospitals to check the state of availability of medical treatment facilities like incubators, ventilators, etc.

Report sought on availability of doctors, facilities at public hospitals across Sindh

The health secretary was told to submit the record regarding the conditions of public and private medical colleges. Meanwhile, the apex court also issued a notice to the Pakistan Medical and Dental Council (PMDC), directing its chairperson to submit in court the criteria to register medical educational institutions.

Health Secretary Fazlullah Pechuho informed the bench that there were 50 medical and dental colleges and universities in the province, out of which 15 medical and 12 dental colleges and five medical universities are under the private sector.

Justice Nisar told the health secretary that there was a condition for the private medical and dental colleges and universities to get affiliated with a hospital having at least 500 beds.

Two Karachi hospitals on 'high-alert' after terrorist attack threat

He questioned whether or not all the private medical colleges were fulfilling this requirement.

Questioning the standards of education and facilities at the privately-run medical colleges, Justice Nisar remarked that a private medical college in Punjab charges upto Rs0.5 million in fees from each student, which a poor person could not afford to pay for their child.

Referring to his recent inspection visit to Lahore's Mayo Hospital, the country's top judge expressed his dismay over the poor state of affairs in the public health facility. With serious concern, he noted that hygiene conditions were found to be ' in shambles.'

The chief justice was subjected to severe criticism for paying his visit to the government hospital.

The health secretary and PMDC chairperson were told to submit their reports by December 30.
COMMENTS (1)
Comments are moderated and generally will be posted if they are on-topic and not abusive.
For more information, please see our Comments FAQ