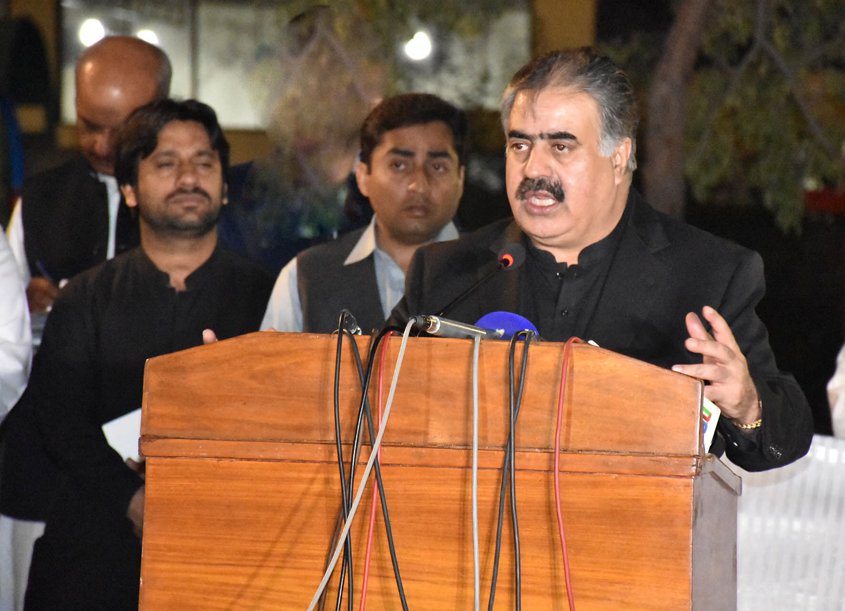 ---
QUETTA: Balochistan Chief Minister Nawab Sanaullah Khan Zehri has said that the dream that Balochistan will be declared polio-free is about to come true as the provincial government is keen on eradicating the crippling virus.

"Goals set to purge Balochistan of the epidemic virus are being achieved," the CM said during a meeting with Prime Minister's Focal Person for Polio Eradication Senator Ayesha Raza Farooq in Quetta on Thursday.

Balochistan focused on uplift of agriculture: Zehri

Provincial Minister Sardar Aslam Bizenjo, Balochistan Chief Secretary Aurangzeb Haq, provincial government spokesman Anwar-ul-Haq Kakar and others were in attendance.

Applauding the efforts of the provincial government and health department regarding the polio-eradication programme, Zehri said, "Balochistan is about to be declared a polio-free zone as we are determined to save our children from all epidemic diseases, including the poliovirus."

On the parents' refusal to administer anti-polio drops, the Balochistan CM said, "I will personally convince the reluctant parents to get their children vaccinated."

A new polio case was reported from the Pak-Afghan border city of Gulistan on Tuesday where a 16-month-old child was diagnosed with the virus. A total of three polio cases have been reported in Balochistan during 2017.

"We need to pay more attention to Quetta, particularly to the Pak-Afghan border areas," CM Zehri said, adding that children in Afghan refugee camps should be administered anti-polio drops during all campaigns.

Balochistan focused on uplift of agriculture: Zehri

On fresh polio case reported in Balochistan, Zehri said, "Investigation is underway and strict action will be taken against officials found negligent during anti-polio drives as the provincial government is providing all-out assistance to the health department and international organisations in the battle against polio."

Senator Ayesha applauded the provincial government for its efforts in combating the poliovirus and thanked the Balochistan CM for his personal involvement in the anti-polio drives.