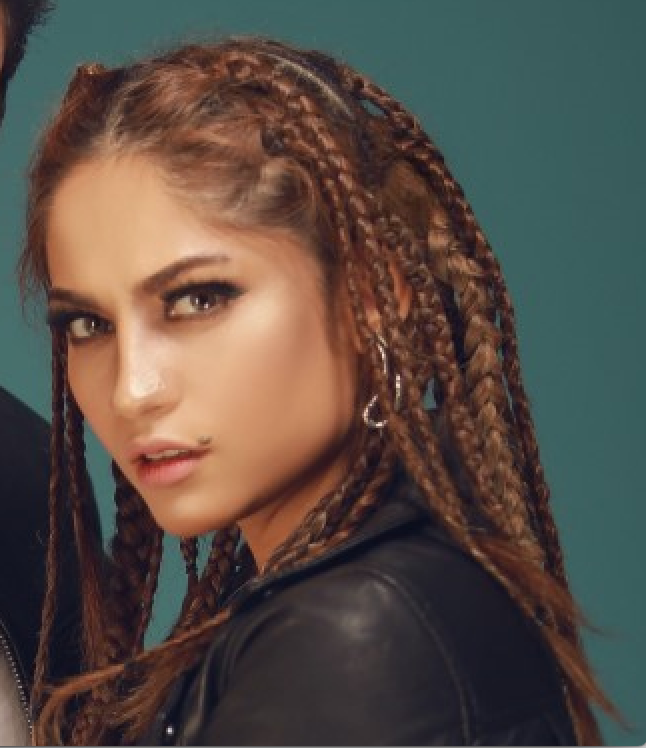 ---
ISLAMABAD: The endearing and exuberant Neelam Muneer Khan comes across as a breath in fresh air. She's as glamorous as she is plain, and drives her point home, but with some bizarre contradictions. Neelam is far from being a diva; in fact it's her familiarity that's made her a household name. She's not fiercely pontifical or dogmatic, but what's laudable about her is how effortless and comfortable she is in her own skin. There's a lot that she has to say, lots that one knows comes out filtered, but despite all of that, Muneer makes up for a compelling interviewee.

Geared up for her film debut, Neelam takes the lead opposite Ahsan Khan in the comedy of errors, Chupan Chupai that is helmed by Wrong No. writer, Mohsin Ali and slated to release on December 29.

Also starring Faizan Khawaja, Adnan Jaffer, Sakina Samoo and Talat Hussain, and Rehan and Javed Sheikh in cameo appearances, the plot revolves around a group of friends who neatly plan on kidnapping someone from an affluent political background, but end up landing themselves into much deeper trouble.




"It was completely different shooting Chupan Chupai," Neelam began, drawing parallels with her experience of working as an actress on the small screen as she sat down with The Express Tribune to talk films and more. "Every shot and scene was important for me. I don't watch my drama serials with my family at home, I mean I just don't want them to compare my characters with me; that's acting, but there was a lot of pressure this time since I'll have to watch the film with them in the cinemas. And with social media being so active now, I think there's even more burden. But I managed to do it and actually enjoyed the entire process."

'Chupan Chupai' aims to encourage young talent in Pakistan

Neelam describes her character as a "dream girl." She says the cine-goers are in for a surprise for they'll be shocked to see her pushing the envelope. "There weren't much hurdles shooting, but the character was very difficult I must say. I think even with dramas, I'm very particular about my portrayals and how I should be voicing my dialogues," she says of initially having trouble getting into the skin of her character. "Otherwise, I really enjoyed. I think it was satisfying for me as an actor working with Mohsin; he had all his shots and storyboards planned before we went on floors. Since he was also the writer, he knew his characters very well and that helped a lot."



Photo credit: Umair bin Nisar/Coordination: Thomas Fernandes

Stirring the conversation to the stature of women in showbiz, when asked, Neelam declared herself as a feminist. It is hence; patent to question her of the much-tabooed epidemic of sexual harassment from within the industry that's been doing rounds ever since celebrated Hollywood film-maker Harry Weinstein was called out for being a perpetrator, and its actuality in the Pakistani entertainment scene. Considering Muneer's collaborated with a plethora of banners and directors, she surely has a say to the matter.

"I think we've all had different experiences, but I feel there's nothing like that in our industry. Most producers and directors have their families in the industry as well and thankfully, never have I come across something of such sort, neither has any other girl told me about it," she maintains. "You need to know how to conduct yourself where and be more careful about your own self. Nobody would dare say anything if you know how to carry yourself. It's all about social media now, nothing can stay hidden for too long. More than the industry, there's abuse on the roads, in schools and needs to be corrected."




Similarly, a bold yet pertinent debate was earlier started on the unjustified pay-gap between men and women in television and cinema. Known as one of the highest paid actresses, Neelam doesn't see massive monetary discrimination either. "There is," she begins, "but we only have a handful of leading men. Honestly, I've never really thought a lot about it. I only act because I enjoy doing what I do and I absolutely love it. It's not my goal to make a certain amount. And I feel most men earn what they deserve, they've been working for so long and they're still so fit at everything."

Ahsan Khan to tickle your funny bone in 'Chupan Chupai'

Being amongst the most followed people in the country, there's little showcase of compassion and social commentary on Neelam's handles unlike her contemporaries. While many would feel socially responsible and believe in spreading awareness about subjects they feel passionately about through the voice and influence they have; little did we know it's a conscious decision?

"I help people, but I don't feel comfortable speaking about it on social media. If I've ever posted about anything but my own self, it's been about the army because I feel very passionately about the forces and their contributions for our wellbeing," she shared. "I try to reach out to people myself and cater to their needs rather than creating hype over media. If I come across a genuine post, I'd rather share it on my profile than my fan page because people try to focus on you there, and there's backlash if you try, which hurts."




Does Muneer feel over-exposure due to social media, to the audience, allowing the public to step in when and as they wish? "It has," she responds prior to an assessing pause, after which she continued, "I don't dislike it though. I think everybody has a mind of their own and I'm not bothered by that at all. In fact, I get to know more about what the audience expects of me, which I feel is very important to figure out. It doesn't mean I start living my life to please them, but it helps."

Neelum Muneer literally dances like nobody is watching in 'leaked' video




"Honestly, there was no negative feedback. In fact, it's worked in my favour, everybody I meet brings it up," she observed. "There was nothing wrong about it – I wasn't in a bar, I wasn't wearing anything offensive, there were no guys around because that's just not the kind of life I lead; it was just me and my friends having fun. Initially, it was doing the rounds within the media, but when it came out, I was a little dubious, but I was so surprised to see the amount of support I got from my fans. It made me realise that no matter what I do, I have people who will always be there for me."

She reveals her family has been encouraging not only during this very episode, but even otherwise. "When the video came out, I went directly to my mother after pack-up and I told her about it. She got very scared, but she was fine with it when she saw it herself," Neelam noted. "She knows I'm somebody who's very fun-loving and can't be made put. I was actually shocked, but you know my family's been very supportive throughout. I think they're the only people who will be by your side even if you've wronged. They mean the world to me and they're very happy with what I do."




The coming year seems even more invigorating for the starlet. Currently training for her return to television, Neelam will be seen in a completely new avatar next, chronicling the journey of a female cricketer in Pakistan. "Before promotions for the film began, I was actually learning how to play cricket and let me tell you, it's not as easy as it looks," she said before bursting out into laughter. On the cinematic front, she says she's going through two more scripts for features and enthrallingly enough, an item song as well.

"Film is entertainment, you have the margin to shoot songs and dance. I think the audience for TV and film are different, and there's nothing wrong if women are open to doing it," Neelam remarked when one asks her of whether she views item numbers as self-objectifying or derogatory to women. "Then again, considering our values and lifestyles, and religion, they're (people are) correct. What I believe is that there's nothing bad about item numbers; it's your choice if you want to watch it or not. There's hypocrisy if you're watching, and dancing on item numbers at your wedding, but then criticising the women who are doing them."




Nevertheless, is Neelam open to shaking a leg to one? "You see I'm still thinking on it," she responds. "I just don't want to hurt my fans' sentiments in any way at all. Even in my film, I've been very cautious this way. At the end of the day, whatever I say or wear on-screen am not me, but the character I'm playing. It's confusing, but if I like the track and I feel like I want to do it, I'll take it up. For now, I'm waiting on the response I get for Chupan Chupai."

Have something to add to the story? Share in the comments below.


COMMENTS (2)
Comments are moderated and generally will be posted if they are on-topic and not abusive.
For more information, please see our Comments FAQ