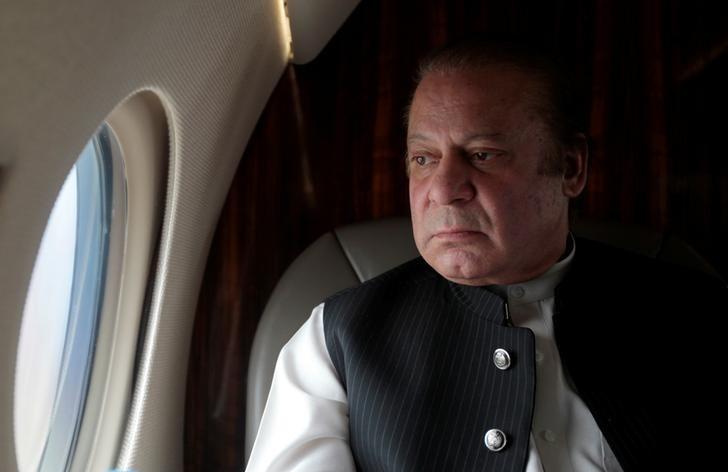 ---
ISLAMABAD: Repeating his tirade against judiciary with even more acerbity, deposed prime minister Nawaz Sharif on Tuesday openly accused the Supreme Court of favouring the rival Pakistan Tehreek-e-Insaf (PTI) as he reaffirmed not to accept 'double standards' of justice and to start a campaign for supremacy of the law.

"The scale of justice outside the Supreme Court should stand for Insaf [justice] and not the Tehreek-e-Insaf," Sharif sarcastically said while talking to media outside the accountability court which is hearing three graft references against him and his family in line with the top court ruling in the Panamagate case.

Sharif made the comment while referring to the Supreme Court's December 15 verdict in the disqualification case against PTI chief Imran Khan and secretary general Jahangir Tareen.

Announcing two verdicts on constitutional petitions filed by the Pakistan Muslim League-Nawaz (PML-N) leader Hanif Abbasi seeking disqualification of Khan and Tareen on various grounds, the apex court had given a clean chit to Khan but disqualified Tareen.

This verdict did not go down well with the ruling party and its chief Nawaz Sharif, who, disqualified on July 28 by a larger bench of the apex court for hiding his 'salary', immediately started accusing the court of partiality and also announced the launch of a campaign for supremacy of the law and the Constitution.

Nawaz Sharif announces to initiate 'justice restoration movement'

"My party and I had earlier launched a movement for restoration of the judiciary but this time around we will start a movement for restoration of justice in the country. At that time, we started movement for the judges, now we will initiate movement for justice," he added.

He said he was disqualified on a 'minor issue' while the PTI chairman had been saved from disqualification despite his "committing and confessing to major irregularities".

"My 'hypothetical salary' became my asset but the SC has declared that Imran Khan's transactions amounting to millions of pounds, the Bani Gala accommodation, the Niazi Services Limited and a flat in the capital do not belong to him."

He said the country was formed for the rule of law and the Constitution and double standards would not work. The law should be equal for all, he added.

Referring to the PTI's foreign funding case where the SC has set time limit of five years, Sharif questioned why the accounts could not be probed beyond five years.

"I was being held accountable for a period even before my birth but the PTI's case can only be probed for the last five years just because everything has already been planned and it has been ensured that nothing wrong took place in these five years," he alleged.

Sharif pleads for people's right to remove govt

Sharif asserted that neither his party nor the nation would accept such decision, adding that he would approach people, start a movement and would not accept the 'double standards' where the 'favourite one' was saved from disqualification and the elected PM was disqualified.

Answering a question about the recent speech of the chief justice of Pakistan, he exclaimed: "Who used to legitimise dictators' rule… who took oath from dictators including Musharraf!"

"If the SC does not take pressure then under what pressure they took oath from a dictator," he added.

Leaders meet Sharif

After the hearing, Sharif arrived at the Punjab House where senior PML-N leaders were present to discuss with him the party's future political prospects in the wake of his announcement to launch a 'movement' in the days ahead, according to party sources.

However, the former premier did not disclose any strategy for the 'movement', saying that he would 'soon' announce his plans. He later left for Lahore without issuing any guidelines.

For many, Sharif's arrival in Pakistan has much to do with the favourable scenario that emerged after the apex court's judgment in Khan and Tareen case.

"It's a win-win situation for us," said a PML-N bigwig. "Had Khan been sent packing, there wouldn't have been anything better. Now that he has not been disqualified, we have a lot to cash in [on the situation] by keep criticising the 'discriminatory' accountability. Either way, things are going our way."

Insiders say the PML-N supremo intends to hold political gatherings in different parts of the country to mobilise his voters and gain public sympathy by likening his disqualification to 'lopsided' accountability, but specifications in this regard have not yet been finalised.

They believe that Sharif's return to Islamabad after a few days' stay in London implies that he is not willing to give political space to his rivals — Khan, in particular.

However, another party leader, who belongs to a dissident group of the PML-N, disagrees. "What other option Mian sahib has in hand than to act in defiance?" he asks. "If he starts behaving in compliance instead of defiance, he would be politically annihilated. This aggression is all about his political survival. He has been going up a blind alley and he is desperate."

According to the politician, the closure of Hudabiya Paper Mills case and reports of an imminent split in the ruling camp necessitated Sharif's immediate return.

"On the face of it, the top court's decision in Hudabiya Paper Mills is a welcoming move for the PML-N. But it's not. For Mian sahib and his companions, Shehbaz Sharif is gaining strength at the cost of weakening the former PM and this is simply a nightmare," he added.

Some weeks back, when the SC announced reopening the Hudabiya case, ice of hostility somewhat melted between the Sharif brothers who decided to face the court cases with unity and cooperation.

"But this might change given that there's a deep-rooted feeling in the Nawaz camp that the powers-that-be are 'patronising' the CM Punjab to dent Nawaz, which gives credence to the reports of the emergence of a Shehbaz League out of the Nawaz League," he added.
COMMENTS
Comments are moderated and generally will be posted if they are on-topic and not abusive.
For more information, please see our Comments FAQ