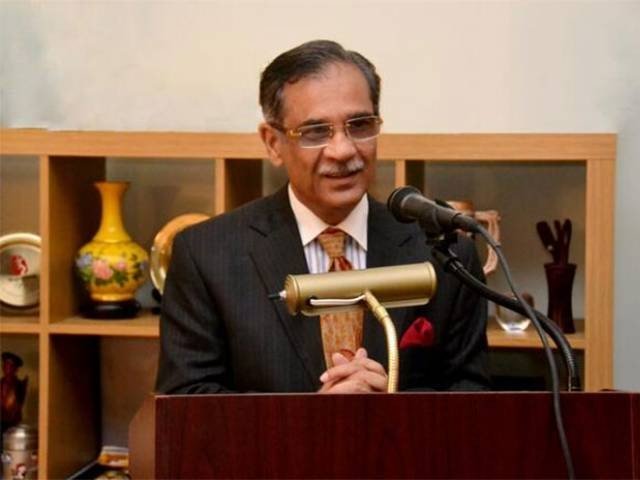 ---
LAHORE: The surprise visit of Chief Justice of Pakistan Justice (CJP) Saqib Nisar at Mayo Hospital on Tuesday confused the patients and attendants, expressing pleasure, they suggested that he should visit other hospitals too.

During his 40-minute visit to the facility, he expressed satisfaction over the cleanliness at the hospital as it was much better compared to other hospitals.

"There are several hospitals, including Services, Jinnah, Gangaram and General Hospital where cleanliness is not up to the mark," commented, Muhammad Shafiq, whose wife was admitted to the Mayo Hospital's emergency ward.

CJP visits Lahore's Mayo hospital for 'unannounced inspection'

An attendant, Sakina Bibi, said that Justice Nisar's surprise visits at hospitals would force administrations and health department to provide better health facilities. "Due to his visit, the administration keeps itself awake," she said. "He should visit other hospitals too."

On Tuesday, Justice Nisar during the hearing of the Saaf Pani Project inquired the authorities about the conditions of health and announced to pay a surprise visit to the Mayo hospital along with Punjab chief secretary and other officials.

During the visit, Justice Nisar directed the bifurcation of males and females wards in emergency and asked the authorities to make sure that the highest quality of health care was provided to all.

Earlier, Justice Nisar on his suo moto case at the Supreme Court registry on the Saaf Pani Project expressed displeasure over the provision of clean water to the citizens. He said that the government should know the level of arsenic in water being provided to houses, educational institutes, and hospitals. He added that private medical colleges charged millions from students but didnt provide them clean driking water.

Going online: Patients' database to be launched in all hospitals

Upon coming to know about the lack of clean drinking water in the hospital, Justice Nisar ordered the hospital administration to install a water filtration plant at the facility. He also talked to the patients and inquired if they were satisfied with the situation at the hospital.

He said that they had taken several steps earlier for the betterment of citizens of Karachi and now it was Punjab's turn. Punjab chief secretary would pay his visits to all hospitals of Punjab and check the conditions of medical facilities in these hospitals, he said.

Published in The Express Tribune, December 20th, 2017.