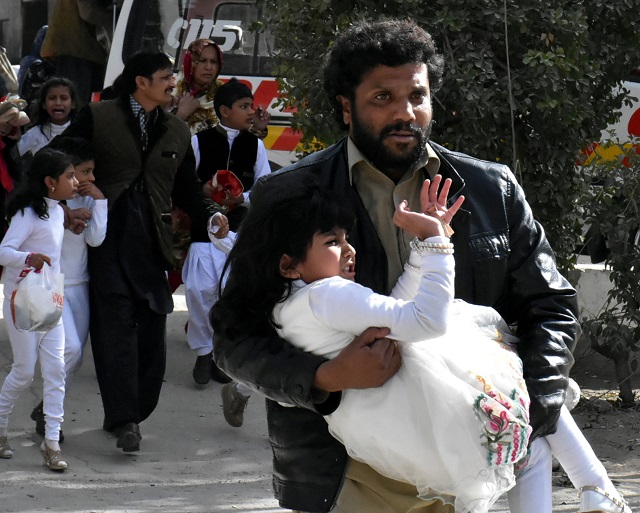 ---
QUETTA: At least nine members of the Christian community were killed and 57 others wounded when two suicide bombers struck a church in Quetta on Sunday where worshippers were attending service ahead of Christmas, officials said.

Balochistan Home Minister Sarfaraz Ahmed Bugti said one of the suicide bombers was shot dead outside Bethel Memorial Methodist Church located on the main Zarghoon Road, but the other assailant made it to the church's entrance hall as Sunday services opened.

"The suicide bomber detonated himself outside the hall where Sunday services were going on," said the minister.

The dead included four women while a one-and-a-half-year old baby girl was among the wounded.

Witnesses reported a heavy exchange of gunfire at around noon in the church neighbourhood as police worked to clear the area of two bombers. The firing continued for an hour,

In the meanwhile, personnel of Frontier Corps and the Quick Response Force arrived at the scene and cordoned off the entire area.


By the grace of Almighty, 02 Suicide Bombers stopped on entrance of Church in #Quetta. LEAs took 16 mins to complete the op. CCPO & DC #Quetta along with IG Police #Balochistan lead the operation from forefront.

— Senator Sarfraz Bugti (@PakSarfrazbugti) December 17, 2017


Most of the casualties took place in the front portion of the main service hall. "The victims received wounds inflicted by splinters, broken windowpanes and wooden pieces of the main hall door," said officials.

Shattered pews, shoes and broken musical instruments littered across the blood-smeared floor of the church.

Naseem James said. "I was inside the hall along with my wife and two children when I heard the firing," he said, adding, "One of my sister's young daughter has died in [the suicide] blast and two other injured."

"God blessed me and my family and saved us in the tragic incident," he said.


"Quetta church attack targeting our brotherly Christian Pakistanis is an attempt to cloud Christmas celebrations / create religious cleavages. Effective response by LEAs is commendable. We stay united and steadfast to respond against such heinous attempts" COAS.

— DG ISPR (@OfficialDGISPR) December 17, 2017


Acme Roger (40), a cameraman for Geo TV, escaped unhurt in the attack. "My mother, wife and two children were inside the hall when the blast took place but they remained unhurt as they were sitting on the back benches," he said

Wasim Baig, a spokesman for Quetta's main hospital, confirming the attack's toll, said, "We received nine bodies and 56 injured in civil hospital."

"A critically injured one-and-a-half year baby girl was also admitted to the Trauma Centre," he said, adding her mother was brought to the hospital carrying blast wounds.

Balochistan IG Moazzam Jah Ansari confirmed that around 400 people were present inside the church at the time of the attack.

"Security forces after killing one of the bombers at the church' gate took aim at the second and injured him," Ansari said, adding, "His mobility to carry out mass killing was greatly reduced due to his injuries and prevented him from entering the  main hall and carry out mass killings."




Attack of terrorists on Zarghoon road church in Quetta is condemned. Pakistan's resolve against terrorism cannot be deterred by these cowardly acts.

— Spokesperson 🇵🇰 MoFA (@ForeignOfficePk) December 17, 2017


"The loss of life could have been much higher if the suicide bombers, had forced their entry into the hall where Sunday services were going on," Ansari said.

He said there was adequate security in and around the Bethel Memorial Methodist Church and other churches in the provincial capital in view of the prevailing situation. He said police and other security forces were deployed on rooftop of the church and a nearby pedestrian bridge.

Sources, however, claimed that one suicide bomber entered the church from the main entrance gate while three others barged into the church from backside. The two had managed to escape.

The home minister and Deputy Inspector General Quetta Abdul Razzaq Cheema also said that the attackers were four in numbers and two of them escaped after police killed their two accomplices.

Eyewitnesses claimed that they saw at least two people who were firing towards the church while escaping.

Meanwhile, bomb disposal squad defused the explosives-laden jacket of the suicide bomber who was killed by the security forces. Civil Defence Director Aslam Tareen said 15kg of explosives was used in both the jackets.

A senior official on the condition of anonymity, said, "The suicide bombers looked like Uzbeks."

The security forces have sealed the church as a team of forensic laboratory from Punjab will reach Quetta on Monday to inspect the site and collect evidence.

President Mamnoon Hussain, Prime Minister Shahid Khaqan Abbasi, Army chief Gen Qamar Javed Bajwa, Balochistan Chief Minister Sanaullah Zehri and other senior officials condemned the attack.

Also, Commander Southern Command, Lt-General Asim Saleem Bajwa and IF Frontier Corps Major General Nadeem Ahmed Anjum visited the Trauma Centre along with other senior military and civil officers.

They met the injured and inquired after their health and assured that all help and assistance would be provided for their treatment.

Also, IS, in a brief statement on its Amaq news agency, claimed responsibility for the assault.

(With additional input from AFP)