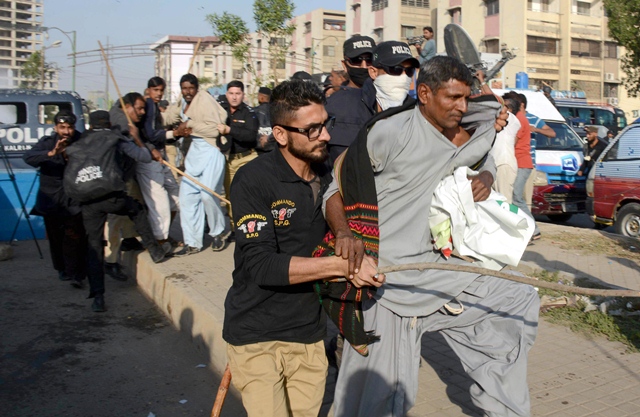 ---
KARACHI: Pakistan Peoples Party (PPP) Chairperson Bilawal Bhutto Zardari took notice on Tuesday of the mishandling of growers' protest outside Bilawal House on Monday and stressed that the use of violence should be avoided while dealing with political protests.

He has asked Home Minister Sohail Anwar Siyal to prepare a report on the incident in which the growers were mistreated using water cannon and tear gas by the police.

In a statement, Bilawal pointed out that it was a deliberate move of the Pakistan Muslim League - Nawaz's (PML-N) government not to tackle the issue of piling up sugar stock in the country, which eventually generated uncertainty and unrest among the sugar cane growers.

Agriculture council announces sit-in outside Bilawal House

He emphasised that the Sindh government should take the growers community in confidence, along with their principal representative organisations, over the issues resulting from the inaction on the part of federal government.

Bilawal said that the agricultural economy was booming when PPP was in power in Islamabad, but the progress has dropped into negative since PML-N government took over. He also warned the Sindh government to stay alert of political opponents impersonating as growers to exploit situation for their political benefit.

Chief Minister Murad Ali Shah also expressed concern over the issue, saying the authorities who started the crackdown should have engaged the protesters in a dialogue.