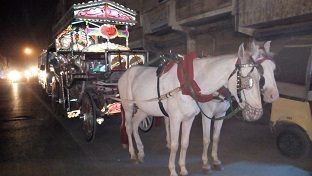 ---
KARACHI: Moments of celebration, such as marriages, cannot be complete without use of exotically-scented and colorfully-mesmerizing flowers.

Flower decorations have traditional prominence in marriage ceremonies. Cultural changes have led to a great many customs losing their spirit, however, some customs are regaining their lost glory.

One such revitalising custom is the use of palanquins for brides, in which a bride is carried on a horse cart or palanquins, locally known as a buggi or doli. The flower decorators have a greater role to play in the tradition. Of late, these decorators have been capitalising on various business opportunities related to the tradition.

According to Muhammad Sarfaraz, proprietor of Madina Flowers, a shop located on Jail Road, flower decoration businesses are buzzing across the city. Flowers adorn all marriage-related ceremonies, including an engagement, mayoon, mehendi, reception and valima. In addition to offering decorations for bride palanquins, decorators also have packages for the groom's car and the newly-weds bedroom, said Sarfaraz.

Sarfaraz said decorating mehendi and mayoon ceremonies takes about 90 minutes, the greater part of which takes place at the bride's home. The bride's swing is generally adorned with roses and marigolds, he said adding that the palanquin, used for the rukhsati, is usually decorated at the workshop before it is loaded onto a heavy vehicle which transports it to the bride's house or the marriage hall.

The palanquin used during the rukhsati ritual carries the bride only up to a certain distance, he said, adding that local flowers like jasmine, marigold and roses, in addition to imported white flowers and cut roses, are used to decorate the palanquin.

This humble wedding ceremony in Multan set an example for all of us

The tradition to carry brides in palanquins is a dated one. In ancient times, palanquins were usually carried by a caste of men known as Kumhars. Nowadays, a bride's palanquin is lifted by her brothers or cousins, who carry it for a few yards during which videos and photographs are taken. The bride is then transferred to a car from where she leaves along with her husband.

Sarfaraz said that palanquins especially meant for mehendi and mayoon ceremonies are also made. Such palanquins are usually adorned with marigolds and it takes three to four men and an equal number of hours to make it, he said.

In addition to flowers, palanquins or dolis are decorated with ribbons and other materials, including a netted curtain, sarfaraz explained, informing that decorators charge between Rs8,000 and Rs10,000 for preparing and renting out a palanquin.

First of its kind 'Pakistan Wedding Show' outshines

Flower decorators also provide services for decorating the room which is to be used by the newly-weds. Traditionally, red roses are used for the purpose. However, some costomers have a preference for white jasmines. The task can take a full day, said Sarfaraz, explaining that flowers knitted in threads are hung from the ceilings to cover all sides of the bed and the room floor is sprinkled with petals, while the walls and corridors are also decorated with flowers.

A business opportunity

The recent unpopularity of traditional marriage arrangements over the use of marriage halls has made way for business opportunities for flower decoration businesses. From the entrance of the hall up to the stage and its backside, flowers decorate almost every inch of a marriage hall, including areas set up for the guests. The beauty, fragrance and freshness of flowers add joy to the event besides giving life to the captured videos and photos.

Substandard food: PFA seals nine wedding halls

According to decorators, stage decoration is in high demand. Well-to-do families even hire event management companies to help them set a colour theme for the event. This way, colours of materials and flowers used for decoration match the colours of dresses worn by the bride and groom. The stage is often also embellished with an exotic carpet and furniture. The setting and decoration of the stage may take up to five hours and cost between Rs15,000 and Rs20,000.

Becoming tech savvy

In order to tune up their business to modern demands, flower decorators have also learned the art of using social media to market their services. A large number of event management and flower decoration companies are using online platforms like OLX, Bolee.com and Facebook to promote their business. Some have even made their own websites to showcase their business profiles, sample clientele and decoration works and post photos and videos of the events they have covered.

CDA to launch operation against illegal wedding halls along Margalla Road

The use of internet and social media platforms saves time for consumers. Several companies use them for sales and door-to-door delivery of flowers and bouquets. In this way, the traditional flower shop has turned into a digital hub from where consumers can get their products with just a push of button.

A royal entrance

As brides revitalise the tradition of palanquins, the grooms are busy making use of tradition of using chariots for their baraat.

In Soldier Bazaar, the buggies and chariots of Rehan Soldier are popularly demanded by people who want to carry their baraat in the traditional way. Chariots laden with two or four horses take the Mughal-like clad groom to the home of his bride or the wedding hall.

The service charges for chariots depend on the distance, time and number of horses used. Colourful glitter works and electrical lamps are used to decorate the steel and wooden parts of the carriage.

Illegal construction: RDA warns farm house scheme

The two-horse chariots are in popular demand, however, some parties prefer the pricier four-horse chariots. The charge for two-horse chariots can be up to Rs12,000 while between Rs15,000 and Rs16,000 is charged for four-horse chariots.

The chariots have well-trained, well-bred and awe-inspiring horses tied to them, adding to the glory of an extravagant baraat. Chariot owners point to the danger of using fireworks and crackers around the horses. "Fireworks and crackers cause panic among the horses," according to chariot owners. "Most people treat the horses nicely, but some ill-behaved lads do create a mess," they added.

A special bath is given to the horses before the event and great care is also taken regarding their daily fodder.

PFA to check marriage halls

A baraat going on a chariot is no short of a spectacle. Onlookers find them amusing and would not miss the opportunity to take a selfie or two with them.


COMMENTS
Comments are moderated and generally will be posted if they are on-topic and not abusive.
For more information, please see our Comments FAQ