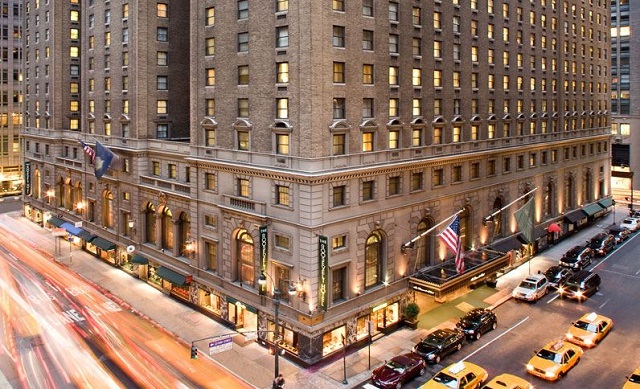 ---
ISLAMABAD: Prime Minister Shahid Khaqan Abbasi has turned down a proposal of selling Roosevelt Hotel, New York to clear debt of Pakistan International Airlines (PIA).

The Aviation Division secretary submitted a proposal to put the hotel on sale to clear debt of PIA which was under financial constraints due to huge borrowings.

The prime minister was also informed that the hotel was also going into loss and therefore it should be sold out.

However, the prime minister, who chaired a meeting regarding affairs related to Roosevelt Hotel at the PM Office, turned down the proposal, asking the secretary to come up with a plan to turn it into a profitable entity, sources said.

Earlier, PIA had come up with a plan of transferring assets -- including Roosevelt Hotel -- to pay off Rs352 billion to clear balance sheet of the national carrier in an attempt to make the organisation financially viable.

The PIA chief executive officer had submitted a business plan to the federal government based on two options to make PIA financially viable.

PPP's rental power projects could not generate one megawatt of electricity: PM Abbasi

Total liabilities of PIA stood at Rs406 billion. To clear the balance sheet, the CEO wanted the national carrier to pay off liabilities worth Rs352 billion out of Rs406 billion.

One of the proposals was to either transfer the hotel to the government or sell it to pay off PIA's debt.

In Monday's meeting, the proposal was submitted to the premier to sell Roosevelt Hotel to clear the debt. However, the proposal was turned down.

The Aviation Division secretary briefed the meeting in detail about financial condition of the hotel and reducing the scale of return on investment.

The prime minister stated that the government considers Roosevelt Hotel as an important historical building owned by the state and that its divestment is not an option.

"Apart from being a valuable property, the hotel also carries cultural significance for Pakistan."

The prime minister also directed the Aviation Division secretary to submit a business plan for improving the income stream of the hotel by either alternate or mixed use development.

The meeting was attended by Advisor on Aviation Sardar Mehtab Ahmed Khan and other senior officials.