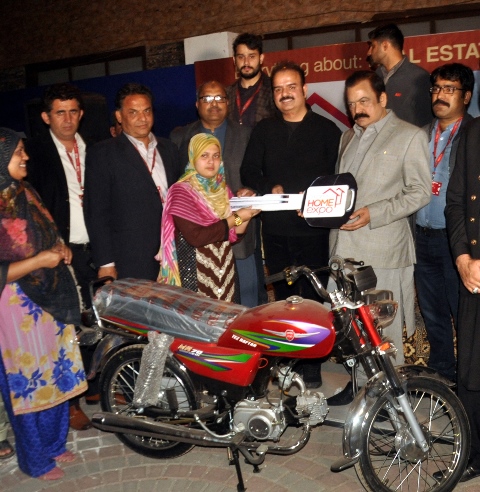 ---
FAISALABAD: The two-day Express Home Expo organised by Express Media Group concluded on Sunday. Thousands of people visited the stalls and appreciated the efforts of Express Media Group.

Punjab law minister Rana Sanaullah, industrialists, traders and dignitaries of the city visited the expo. He said such an expo is a blessing as it gives people ideas on building their homes.

He said that participation of big companies and visit by thousands of people is a proof that such expos should continue to take place. He congratulated the Express team for holding this expo successfully.

The minister also distributed motorcycles among the citizens. Lucky draws were also conducted and winners included Aamir Suhail, Kainaat, Shahid Mehmood, Barkatullah and Mukhtar Ahmed. They were presented motorcycles and other expensive prizes

Rana Sana was briefed about the participating companies by associate Director Marketing Saiful Azam Khan

The companies included Loyal Residentia, Burj Gwadar, Rafi group, Chowla Group, Seramico, Athar Marketing, DHA Multan, Meesaqul Maal, DWP, Zamaqa Marketing, Kohsar, Adamji Pipe, Prime Cables, Boss Furniture, Master City, Starco, Minhas, Ben Alam, Quaidabad Rock, Outdoor, Izhar Manoon, Developers Residence, Royal Mall Residentia, Madina Mall and Property Talls. They were presented with shields.
COMMENTS
Comments are moderated and generally will be posted if they are on-topic and not abusive.
For more information, please see our Comments FAQ