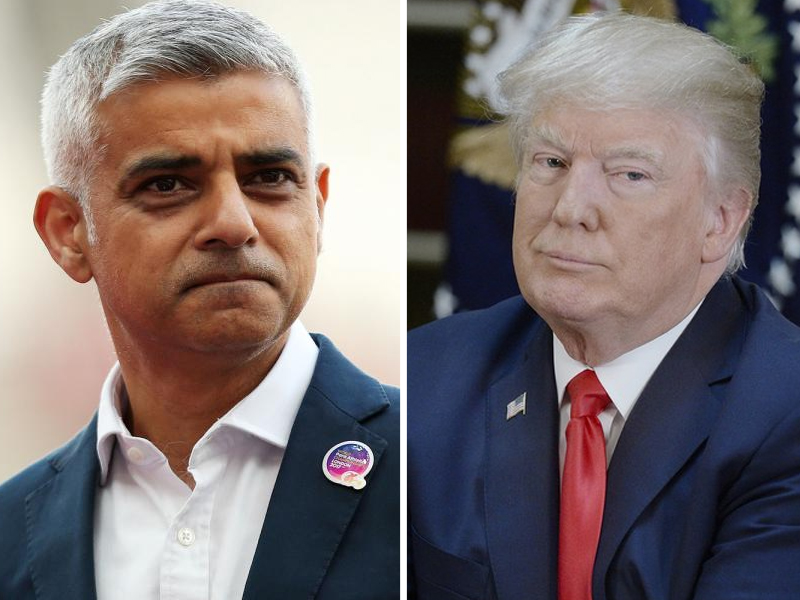 ---
ISLAMABAD: [fbvideo link=" https://www.facebook.com/etribunevideo/videos/1618350668225548/"][/fbvideo]

London Mayor Sadiq Khan on Thursday joined world leaders in expressing serious concerns over the US decision to recognise the disputed city of Jerusalem as the capital of Israel and said that by doing so, President Donald Trump would be adding to world's problems.

"I am very concerned by the announcement made by the US president that he will move the American embassy from Tel Aviv to Jerusalem. This implies that Jerusalem will be the undisputed capital of Israel," Khan, the first Pakistani-origin mayor of London, said in an interview with The Express Tribune.

This, he said, shows a lack of understanding of the politics and history of the Middle East on the part of the US president.

Americans should realise that they should be taking steps that help make things easier for Middle East peace rather than making it harder, he said, adding that the US should try to reduce problems the world is going through.

I'm not a Muslim leader, says London mayor

Citing international issues such as Da'ish, Syria, Iraq, and North Korea, he said he believes President Trump has added yet another one through this decision.

President Trump on Wednesday overturned decades-old US policy by recognising Jerusalem as the Israeli capital, drawing condemnation from many countries.

Khan said the good news is that the world has united against the US decision. Muslim and non-Muslim world leaders including the president of France, the British prime minister, the head of the EU, the Pope, the Archbishop of Canterbury, and many others have been voicing their concerns over it.

The son of a bus driver and a seamstress, Khan, 47, was a member of the UK parliament from 2005 to 2016 before his election as mayor of London.

Born in Tooting, South London two years after his parents migrated to the UK from Pakistan, before entering politics, he earned a law degree from the University of North London and worked as a lawyer specialising in human rights.

He believes it the city of London and the opportunities it offers is why he achieved everything he has so far. He used the term "London promise" to explain it.

"I feel lucky to have people who had been helping me, at school, my teachers pushing me, at home, my parents encouraging me to work hard…When I got a job, people mentoring me and supporting me…when I was a lawyer, a member of parliament and a minister, and now the mayor. That's because of what I call London promise. The London promise is, if you work hard, you got helping hands. It means you can achieve anything," he said.

Will Trump's anti-Muslim tweets destroy US-UK 'special' relationship?

He wants to pay it back to the community that provided him with these opportunities.

"I feel lucky that people helped me, and one of the things I want to do as mayor is, to help others. Help others to fulfil their potential," he added.

He admitted that as a youngster, he had to face the ugly reality of racism, but added that the London of today is a much better place to live.

"When I was younger, I experienced some racism, some name calling. But the good news is that from the time my parents came to London from Pakistan, and when I was younger, and now my children, there is huge progress. We live in the same areas. My children have had nothing like the problems I had, and I had nothing like the problems my parents had," he remarked.

In London, Muslims, Hindus, Sikhs, Christians, Jews and those who do not follow any religion, not only tolerate and respect each other but embrace and celebrate each other, Mayor Khan said.

About increasing Islamophobia in the West, he said he feels it is because there are some people who prejudge and have prejudices against Muslims because they do not understand Islam.  At the same time, there are some people, though very small in number, who commit terrorist acts and use Islam to justify their behaviour.

To deal with such a situation, he said, "Firstly we make sure we educate the people as to what it means to be a Muslim and adhere to the faith of Islam. Secondly, those who act in Islamophobic, racist or anti-Semitic manners, should be dealt with iron hands."

When asked about the different faces he needs to present – from attending LGBT parades as mayor and organising Iftar events in Ramazan, his answer was straightforward. "The world has become smaller. What I mean by that is now, the world is not like where you can have this group living there, that group living there. Pluralism means we have to live together. We want to be successful. That means different races, different ethnicities, different religions, people with different backgrounds [living in harmony]. I campaigned to be mayor for all Londoners, that means a mayor of the LGBT community, mayor for Christians, Muslims, Hindus, Sikhs, rich or poor, old or young, people who are disabled, people who are not disabled, all people. That means we spending time with all Londoners, diverse Londoners, understand their inspirations and their challenges, and I represent all of them. Symbolism is very important. We organize Eid at Trafalgar Square, Diwali, Jewish festivals, Baisakhi, and Christian events. Why? Because Londoners are full of different faiths, and I want them to feel they belong to London".