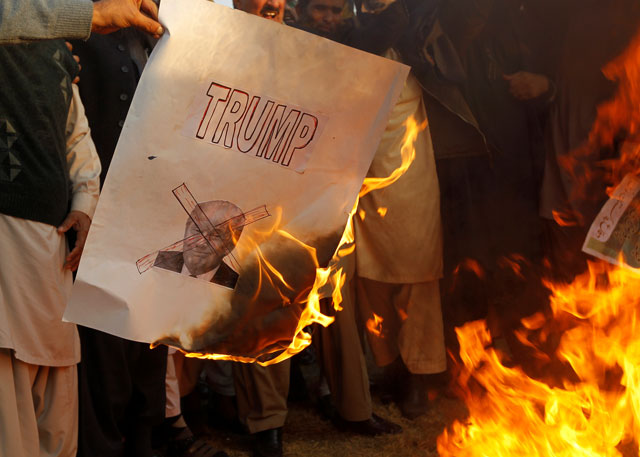 ---
The US State Department has issued a travel advisory for its citizens in Pakistan and the Muslim world, urging them to exercise caution in the wake of President Donald Trump's decision to recognise Jerusalem as the capital of Israel as it "may spark protests, some of which have the potential to become violent".

In its security message, the US Embassy Islamabad reminded Americans citizens of the need for caution and awareness of personal security.


Security Message for U.S. Citizens: #USEmbISB reminds U.S. citizens of the need for caution and awareness of personal security. https://t.co/ausw6RYSIG

— U.S. Embassy Islamabad (@usembislamabad) December 7, 2017


"Avoid areas of demonstrations, and exercise caution if in the vicinity of any large gatherings, protests, or demonstrations. Even demonstrations intended to be peaceful can turn confrontational and escalate into violence," the security message stated.

President Trump recognises disputed city of Jerusalem as Israeli capital

It also ordered cancellation of all movement of US government employees on December 7 and 8 to avoid potential protests and road closures.

The embassy informed citizens of its 24-hour hotlines set up in Islamabad, Peshawar, Lahore and Karachi.

Trump's decision has already drawn a sharp reaction from Pakistan.  While hundreds of protesters rallied in major cities of the country on Thursday, major demonstrations against the decision are expected on December 8 after Friday prayers.
COMMENTS
Comments are moderated and generally will be posted if they are on-topic and not abusive.
For more information, please see our Comments FAQ