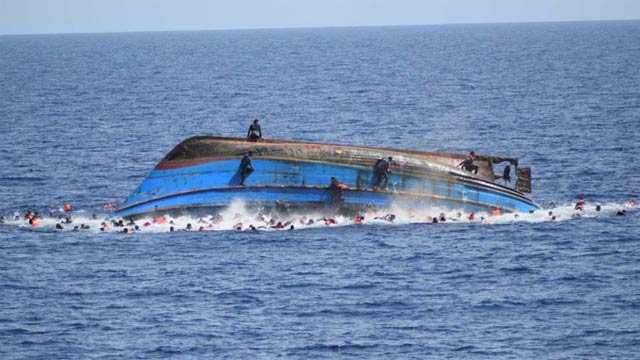 ---
HYDERABAD: At least 21 people drowned while 47 others were rescued on Thursday after a boat carrying around 100 passengers capsized and sank in the Arabian Sea, a few kilometres off the coast in Thatta district of Sindh.

The passengers had boarded the boat from the coastal village of Buharo and were going to attend the annual urs celebrations of Meenhan Pathai – a shrine located on an island off the coast.

Local fishermen and other boats in the area immediately went to rescue the victims. Pakistan Navy and Edhi volunteers also joined them. The rescuers recovered 21 bodies, while 47 people were pulled out alive. Among the injured, at least 12 people are stated to be in critical condition.

Three cops drown as boat capsizes in Indus River

"We still don't know the actual number of devotees who were in that [sunken] boat," Thatta Deputy Commissioner Mirza Nasir Beg told reporters. Mirza gave an initial death toll of 18.

The authorities were directed to complete the search by the sunset, but the rescue operation continued past dusk. Mirza said the search operation would continue till the last missing person was found.

Subhan Jokhio, one of the survivors, told the media that the boat was overcrowded. "There were more people crammed in the ferry than it could handle," he said, adding that most of the victims were from Malir district in Karachi.

Every year, thousands of people visit the shrine, and overcrowded boats are commonplace. According to Allah Dino Mallah, a local boatman, the ill-fated boat had a capacity of between 40 and 50 people at the most. "It probably overturned due to high tide and overcrowding," he opined.

The locals complained that despite knowledge of the annual Urs, which is celebrated on 18th of Rabiul Awwal, the district administration did not make special arrangements. There were no lifeguards, boat fitness checks, or checks on the number of passengers, they added.

The bodies were kept at Shaikh Zaid Hospital in Thatta. They included six women and four children between the ages of two and six years. Most of the victims belonged to Memon Goth in Malir.

The deceased identified so far include Abu Bakar Jokhio, Muhammad Ali Khaskheli, Ahmed Khan Lashari, Waziran Jokhio, Karamunnisa Jokhio, Shabana Panhwar, Maqsood Jokhio, Shahnaz Jokhio, Yasmeen Jokhio, Lalan Panhwar, Hajra Jokhio, Hanif Jokhio and Kareem Bux Jokhio. The children are Javeria Jokhio, 5; Dilawar Jokhio, 6; Yasir Jokhio, 4; and Nazia Panhwar, 2.