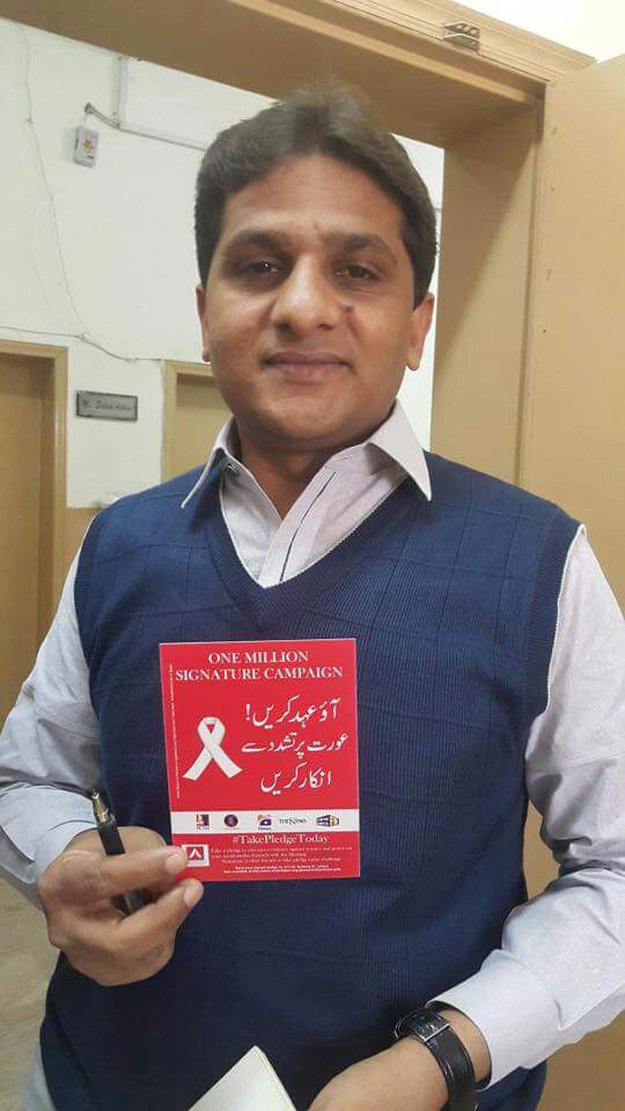 ---
LAHORE: Peace and civil society activist Raza Khan was allegedly abducted by an unidentified man and has been missing for two days from his residence in Lahore, claims his brother.

Hamid Nasir Mehmood, the activist's brother, has filed an application in Lahore's Naseerabad Police Station, asking the law enforcers to take notice of Raza's disappearance.

"My brother's cell phone was switched off on December 2, after which I visited his home but he was not in his room," Mehmood wrote in the application.

"My brother has been abducted by an unidentified man, for unknown reasons," he added, requesting the Station House Officer (SHO) to take legal action and address the family's plight.




Raza is an active member of Lahore's civil society and an activist of Aaghaz-e-Dosti, an organisation that promotes friendly relations between the people of Pakistan and India.

90-year-old father's arrest begins movement for Shia missing persons

News of his disappearance is making rounds on social media with many activists and human rights groups demanding safe release. People who know Raza said that he was last seen in a 'heated public debate about extremism and the recent Faizabad sit-in in the city'.

On Twitter, social media activists have been using the hashtag #FindRaza while stoutly denouncing Raza's sudden disappearance.


Progressive peace activist Raza Khan missing in Lahore since Saturday after attending heated public discussion on rising extremism in the context of the Faizabad dharna. Please share and get in touch if you have any information on his whereabouts. pic.twitter.com/238FGTLQby

— Ammar Rashid ☭🌹 #RedistributionNow (@AmmarRashidT) December 4, 2017
Raza Khan, a dedicated activist and convener of Aghaz-e-Dosti, a forum working for peace between India and Pakistan, has been missing since yesterday from Lahore. We hope, pray, and demand and that he be returned safely. #FindRaza #nomoremissingpersons #EnoughIsEnough @rastabadlo pic.twitter.com/xZ5jk4kqFa

— Nida Kirmani (@nidkirm) December 4, 2017
#FindRaza pic.twitter.com/QYmhxkssAZ

— DSA (@DSAlliance_) December 4, 2017
@zeebahashmi has reported that Raza Khan a social activist raising voice against extremism and for regional peace is missing since Saturday. #FindRaza

— Salman Haider (@SalmanHydr) December 4, 2017


The latest missing person case emerges just a day after the Commission of Inquiry on Enforced Disappearances revealed before the Supreme Court that 1,498 cases of missing persons are still pending with it.

There are 273 cases of missing persons from Punjab, 126 cases each from Sindh and Balochistan, 63 cases from the Federally Administered Tribal Areas (Fata) and 52 from Islamabad. The report said that over 3,000 cases were disposed of until November 30 with 2,257 people traced out since 2011.

A three-judge SC bench, headed by Justice Ejaz Afzal Khan, resumed hearing of the case on Monday as it observed that it was beyond comprehension how the spy agencies did not have a clue about the missing persons.

Earlier this year, six bloggers and social media activists had also gone missing who were later released. The abductees, once free, claimed on social media that they were detained by intelligence agencies.