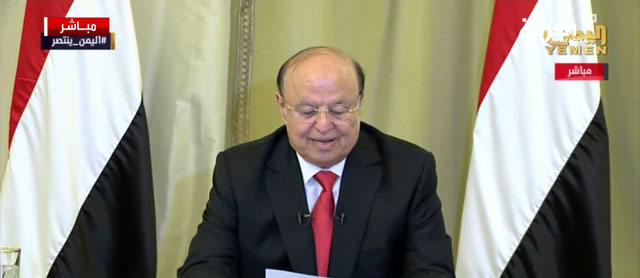 ---
DUBAI: Yemeni President Abd-Rabbu Mansour Hadi called on Yemenis on Monday to rise up against the Iran-aligned Houthis after the death of former president Ali Abdullah Saleh.

Speaking in a speech carried live on the Saudi-owned al-Arabiya television, Hadi also called for a new chapter in the fight against the Houthis, who were allied with Saleh before he turned on them and offered to back the Saudi-led coalition.


LIVE: President Abdrabbuh Mansur Hadi calls on all #Yemenis to rise up against #Houthi militias after #AliAbdullahSaleh's assassination https://t.co/BXBfU7XSMO pic.twitter.com/uqHlD2c8vE

— Al Arabiya English (@AlArabiya_Eng) December 4, 2017


Yemen's ex-president Saleh killed in RPG, gun attack on his car

Yemen's rebel-controlled interior ministry on Monday announced the "killing" of former president Saleh. The development was confirmed by Saleh's General People's Congress party.
COMMENTS
Comments are moderated and generally will be posted if they are on-topic and not abusive.
For more information, please see our Comments FAQ