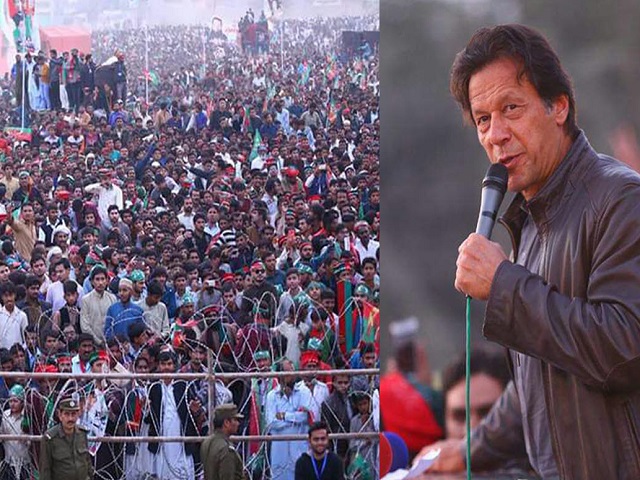 ---
CHISHTIAN: Not satisfied with just ousting Nawaz Sharif as the prime minister, Imran Khan took another jab at the troubled Sharif, this time, by claiming he would fall to such lows as befriending Indian Prime Minister Narendra Modi to save his ill-gotten Rs300 billion.

"I claim today that Sharif will do everything possible to save his Rs300 billion transferred [abroad] through money-laundering," said the Pakistan Tehreek-e-Insaf (PTI) chairman while addressing a huge gathering at the Railway Ground in Chishtian in Bahawalnagar district on Sunday.

"Sharif, you will compromise with anyone for this purpose," he said, adding that "you will even befriend Modi to save your money".

"You will sacrifice all interests of Pakistan at the international level," he added.

Continuing his diatribe, Khan said, "I claim today that you [Sharif] are the Mir Jafar and Mir Sadiq of Pakistan. Mir Jafar and Mir Sadiq were traitors in the history of the subcontinent as they made their people work as slaves for the British for the sake of their own personal interests."

PM should resign immediately, demands Imran Khan

He said today Sharif was ready to ruin the judiciary of Pakistan for the sake of his personal interests, adding that "you are even conspiring against your own army to save your money".

"But let me tell you Sharif, you will not be able to save this money which belongs to thousands of Pakistanis. We will bring that money back to Pakistan," said Khan.

Reiterating Sharif's words which he spoke at the Abbottabad gathering that "Sharif is the name of an ideology", Khan said, "Yes, I agree, he [Sharif] is the ideology of corruption."

"Whoever is with Sharif, his ideology is corruption," he added.

He said all corrupt people were supporting Sharif because they knew that if he "is chained, they will be the next".

He said Foreign Minister Khawaja Asif has signed a contract with a company of Dubai. "Being a minister of Pakistan, he is taking a salary of Rs1.6 million every month from that company. Has this ever happened anywhere else in the world?" he asked.

I am the only leader to bring my assets to country: Imran

He said Asif was a clerk in a bank, how could he be the legal adviser of that company, adding that all these "are techniques of money-laundering".

After the end of Faizabad sit-in, the way that PML-N celebrated Eid Miladun Nabi is an example that cannot be found anywhere else in history, especially the way Abid Sher Ali wore green turban "is exemplary", said Khan.

"I want to ask you [PML-N leadership] one thing, for whom have you done all this, who do you want to please," said Khan.

He said when he visited Chishtian seven years ago, there were only 200 to 300 people, but now "there are thousands of people". He termed it "the real change".

While appreciating the security forces' performance, he said the Khyber-Pakhtunkhwa (K-P) police averted a huge massacre last Friday.

He said, "If we observe merit for selection and promotion in the police department and end political interference, Pakistani police can compete at international level."

Govt made amendment to please foreign lobby: Imran Khan

"If our commandos had not reached in time the Army Public School massacre could have been repeated," he added. Three years ago, terrorists had barged into the APS in Peshawar and killed 141 people, including 132 schoolchildren.

In Punjab and Sindh, the main problem faced by the people "is thana culture". "The oppressive rulers use police and police stations against their opponents," he added.

"In K-P, the police cannot file an FIR against anyone on political interference, but in Punjab and Sindh, fake FIRs under ATA were lodged against me and my senior leadership, including Jahangir Tareen and Shah Mahmood Qureshi," he said.

"After coming to power, the PTI will transform the police of Punjab as it has done in K-P," Khan said. "We will not only change the police force's uniforms as they look like postmen after wearing them, but will bring merit and end political interference."

On the occasion, former Pakistan Peoples Party leader Kashif Naveed Pansota joined the PTI.

He is the brother of former PPP MPA Rauf Khalid Jutt.

Famous singer Attaullah Khan Esakhelvi performed at the gathering.
COMMENTS (3)
Comments are moderated and generally will be posted if they are on-topic and not abusive.
For more information, please see our Comments FAQ