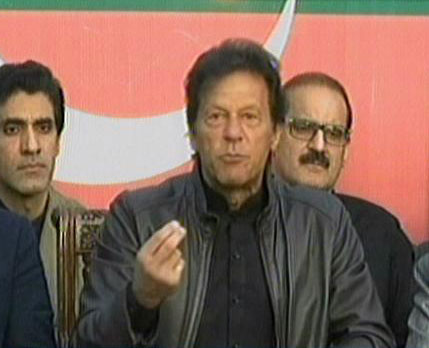 ---
ISLAMABAD: [fbvideo link=" https://www.facebook.com/etribune/videos/2108402442510104/?notif_id=1511953787554421&notif_t=live_video_explicit"][/fbvideo]

Demanding of the government to expose the characters involved in changing the Khatm-e-Nabuwwat declaration, Pakistan Tehreek-e-Insaf (PTI) chief Imran Khan has claimed that the Pakistan Muslim League-Nawaz (PML-N) government took part in this 'conspiracy' to please some 'foreign lobby'.

"The PML-N did it by stealth. I think they tried to convey a signal to please some international lobby as they did try to please the Indian lobby through the Dawn Leaks," the PTI chief said on Wednesday while addressing a press conference.

Faizabad sit-in wasn't about Khatme Nabuwat, but a sectarian conspiracy: Ahsan Iqbal

"The government should clarify whether it was an international conspiracy, a mistake committed by former law minister Zahid Hamid or an amendment silently introduced by someone else. A delay in fixing the responsibility in this regard will deepen doubts in the minds of public," he added.

Khan defended the religious party that staged a 20-day-long sit-in in Islamabad and said protests were part of the democratic process. He said the government was responsible for dealing with the sit-in effectively through dialogue.

"[PML-N chief] Nawaz Sharif himself led long marches on different occasions and most recently after his disqualification by the Supreme Court," he said.

He claimed that there was a tremendous pressure on him from the PTI workers to join the protesters. "Our workers wanted to join the protest not for political purpose but to show their allegiance to the belief of Khatm-e-Nabuwwat, which is above any political affiliation," he added.

PM should resign immediately, demands Imran Khan

Khatm-e-Nabuwwat declaration

The PTI chief said it was a lie that all political parties were taken on board on the final draft of the Election Bill 2017 in which Khatm-e-Nabuwwat declaration was amended.

"Amendment to declaration in nomination forms was not discussed at any level – neither in the main parliamentary committee nor in its subcommittees that finalised the bill," he said, adding that the PML-N should make public minutes of the meetings where such amendment was discussed.

Role of army

He said both government and people should thank the Pakistan Army for brokering a successful deal between the government and the protesters as "the army's timely intervention averted an unimaginable chaos" that had started gripping the whole country.

He expressed displeasure over the remarks of an Islamabad High Court (IHC) judge, Shaukat Aziz Siddiqui, who had questioned legitimacy of the deal brokered by the army.

Govt inefficiency

Criticising the government, the PTI chief said Prime Minister Shahid Khaqan Abbasi had miserably failed to effectively run his office as his whole cabinet was busy for over one year to defend corruption of former prime minister Nawaz Sharif and his family.

"Instead of distancing themselves from the former PM who is facing severe charges of corruption, his ministers are busy to protect him," he said.

He alleged that Defense Minister Khawaja Asif and Interior Minister Ahsan Iqbal were holding iqamas of Gulf countries to launder money.

"Asif is a minister but at the same time he is a servant of a foreign company which used to pay him Rs1.7 million," he said. "As per his agreement with the company, he is supposed to work five days a week and eight hours a day for that company."

Early elections

Khan reiterated that an early election was the only way to rid the country of the deepening crises, insisting that the current situation was causing immense damage to democracy.

"Holding early elections will strengthen democracy. It's the government's prerogative to call early elections, and we can only advise it to do that in order to end the prevailing stalemate," he said.