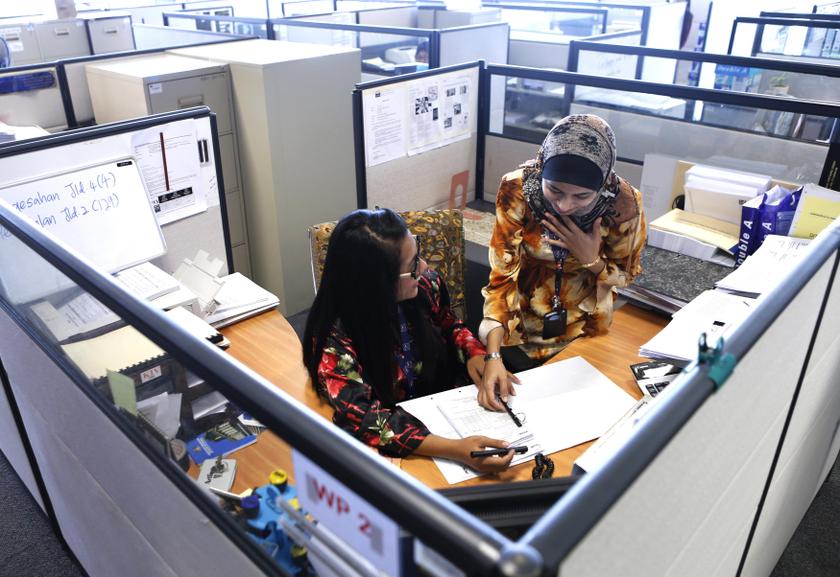 ---
KARACHI: When you try to break the glass ceiling you face a lot of hurdles, said a speaker at a session on 'Gender and Work' at the Women of the World (WoW) festival held at the Alliance Francaise on Saturday.

The session was moderated by Faiza Mushtaq, assistant professor and chairperson of social sciences and liberal arts at the Institute of Business Administration.

The speakers at the session included Saima Qamar, chairperson of Kantar Insights Pakistan, Farzana Ali, bureau chief of Aaj TV in Peshawar and Dr Dilshad Ashraf, associate professor at Aga Khan University Institute for Educational Development.

All three women shared experiences of how they overcame the challenges and struggled to prove themselves in a society that discouraged women from following their hearts and fulfilling their dreams.

Women are supposed to stay at home and take care of the family, they cannot go outside past sunset, women cannot mingle with men - these are just a few of the many admonitions women hear every day, but there are women who are not ready to conform to the rigid rules set for them by society.

Pakistan fourth worst country for women: study

Hailing from Dera Ismail Khan, a small town in Khyber-Pakhtunkhwa, Ali struggled to convince people to let her follow her dream to become a journalist, which was seen as a taboo by her family.

But their opposition did not stop her - she continued to struggle to achieve what she wanted and today has become an inspiration for many girls in her hometown. She was the first person to obtain a Master's from her hometown, she told participants, proudly adding that now girls from Dera Ismail Khan have gone on to become doctors and engineers.

"When you try to break the glass ceiling you face a lot of hurdles," she said. She spoke about the opposition she faced in the conservative Pakhtun culture and said women must "close your ears and open your eyes".

Character assassination was the biggest hurdle she faced, as the people who could have supported her instead criticised her. Her work was not appreciated but that did not stop her from pursuing her career, leading her to become the second female bureau chief in Pakistan.

Women first learn to respect yourselves: speakers

"Do what you want to do, love yourself and do not be scared of the difficulties that may come your way," Farzana told the participants of the session.

For Qamar, the biggest challenge was to be taken seriously. Be it by their families or colleagues, women are not taken seriously, she lamented, adding that they are underestimated and have to struggle to get their point across.

Qamar said she had to convince people, including her own family members, to listen to her and understand her. "They would ask me why girls want to work. They believed it was to earn money to buy things like clothes and cosmetics," she said.

She related a story in which her supervisor was discussing options for his replacement with her and never even bothered to consider her. "I asked him why he didn't consider me a suitable option and this is how I got the position. I fought for my rights, which is the only way women can bring change," Qamar added.

"Men do not want change – why would they? They have it all. The burden is upon women to bring change in society," she cautioned.

For Dr Ashraf, teaching was the only career option available to her, as it was considered by her community members the profession appropriate for women.

Commission on the Status of Women gets an office

"A decision to take up a career is never a decision a woman is able to make on her own. The only possibility available for me was to apply for a teaching position," she said.

According to her, the first step for women to bring a change is to start making their own decisions without anyone else influencing them.