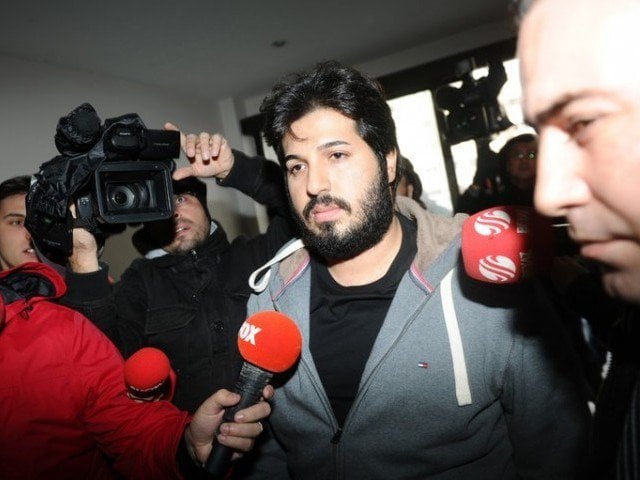 ---
ANKARA: Turkey on Thursday said a Turkish-Iranian gold trader who admitted in a US court to bribing Ankara's former economy minister was making defamatory claims because he was under pressure.

Reza Zarrab told a New York court on Wednesday that he had bribed Zafer Caglayan in order to facilitate illegal gold transactions with sanctions-hit Iran.

Zarrab had been due to go on trial but is now the prosecution's star witness. Only Turkish banker Mehmet Hakan Atilla, accused of violating sanctions against Iran, as well as of bribery and money laundering, is on trial.

Gold trader tells US court: I paid ex-Turk minister over Iran deals

But Turkish Deputy Prime Minister Bekir Bozdag said "Zarrab has become a slanderer under pressure" during an interview with state-run news agency Anadolu.

Bozdag repeated previous claims that US-based Fethullah Gulen, the alleged mastermind of the failed 2016 coup, and his network was behind the court case.

Zarrab was one of the main figures in a 2013 corruption scandal in Turkey that Erdogan, then prime minister, also saw as a bid by Gulen to bring him down.

Gulen, who lives in the United States, denies Turkey's claims.
The gold trader had spent 70 days in custody in Turkey over the scandal, but all suspects arrested in the probe were subsequently released.

Caglayan resigned from the government at the time along with three other ministers. Zarrab told the court that he paid 45 to 50 million euros ($53.2 to $59.1 million) plus approximately $7 million in bribes to the minister between March 2012 and March the following year.

Bozdag denounced the Manhattan federal court trial as "theatre" and indicated it was a plot against the government which the main opposition party in Turkey was a part of.

The Republican People's Party (CHP) leader Kemal Kilicdaroglu on Tuesday claimed he had evidence of offshore transfers made to a tax haven by relatives of Erdogan.

Turkey says US wants to use gold trader case to impose sanctions

The president on Wednesday denounced the claims as "lies" and said he would file a legal complaint along with five others accused by Kilicdaroglu.

"It is necessary not to think of these two as separate (the US trial and CHP). Both of them are targeting Turkey and the president's government," said Bozdag, also government spokesperson, adding that Kilicdaroglu's claims were "slander".
COMMENTS
Comments are moderated and generally will be posted if they are on-topic and not abusive.
For more information, please see our Comments FAQ