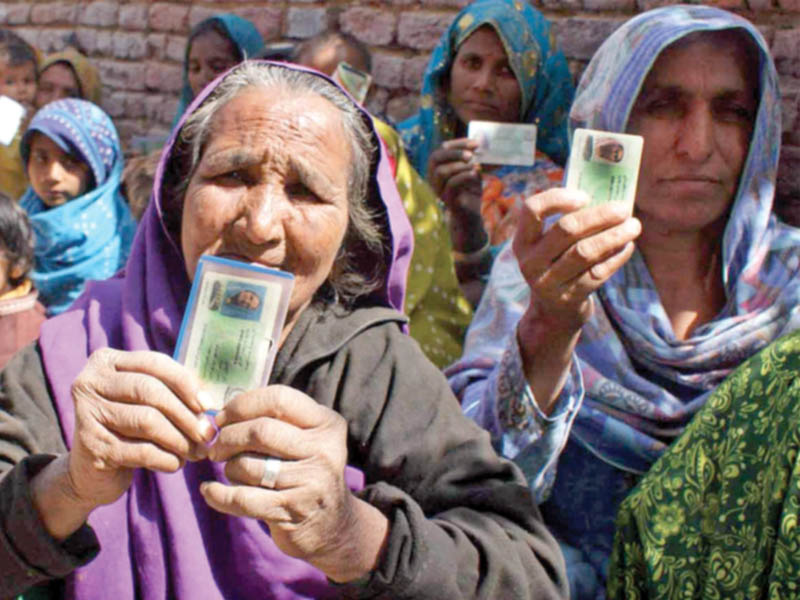 ---
ISLAMABAD: Millions of women eligible to cast votes are unlikely to be added to the electoral rolls for the next year's general elections as the National Database and Registration Authority (NADRA) does not have the capacity to make their Computerised National Identity Card (CNICs) in the limited time.

In the revised voters' list of 97.02 million registered voters, 54.60 million [or 56.27 per cent] are men while 42.42 million [43.73 per cent] are women, showing a gap of more than 12 million.

This gap between male and female registered voters in the country has increased from 10.97 million in March 2013 to 12.17 million in September this year. It is estimated that the voters' list will have well over 100 million citizens and the gap between male and female voters is likely to increase further.

Voters gear up as NA-120 polling day nears

The main reason why millions of women of 18 years and above are not added to the electoral rolls is that they do not have the CNICs. Issued by NADRA, the CNIC is a pre-requisite to get enrolled in the voters' list and it is also needed as proof of identity for casting vote.

The Sindh Assembly on November 23 unanimously adopted a resolution recommending the federal government to take steps to register all eligible women voters in the electoral rolls. The resolution claimed that there were around 13 million unregistered women.

The Election Commission of Pakistan (ECP) in its meeting on November 17 decided to organise the national voters' day on December 7. After this huddle, the ECP's planning committee for the next year's general elections announced the launch of a special campaign to register eligible women in the voters' list.

It will focus on 79 districts where there is a greater disparity between male and female voters. The ECP will also complete computerised data-feeding system at all of its district offices next month.

However, the main impediment to the registration of women voters would still remain unaddressed unless all stakeholders – including the ECP, NADRA, political parties and civil society organisations – galvanise themselves to ensure that all missing women have CNICs before April 2018.

The ECP will freeze voter's list for general elections scheduled in July-August next year.

Sources in the ECP said NADRA's current infrastructure of the National Registration Centres (NRCs) and Mobile Registration Vans (MRVs) is not sufficient to make the CNICs for these millions of women, in addition to their normal work.

NADRA has a total of 539 NRCs, 234 MRVs and 14 women-only NRCs.

A NADRA official told The Express Tribune that it would be impossible for his organisation to prepare more than 12 million additional CNICs by April 2018. This work, he said, would be in addition to the routine work that NADRA centres were doing.

He said the staff at registration centres was already overburdened and NADRA had already conveyed to the ECP that it could make a maximum of 2 to 3 million additional cards by April next year.

"Sometimes it takes us 45 minutes to process one application. People have different issues. Some lack required documents, some have other issues," the official said while requesting not to be named.

Electoral reforms bill: opposition lawmakers seek sweeping changes

It takes 30 days on average to print the normal card, 21 days in case of urgent cards and a week in case of executive cards.

Given these impediments due to the existing capacity of NADRA, it will not be possible for it to ready more than 12 million cards. Subsequently, these women who are otherwise eligible to vote will not be able to get registered in voters' list.

Different civil society organisations working for women registration claim they have been facing difficulties in procuring the CNICs for the women whom they try to facilitate.

"Normal CNIC is free of cost for the first time. However, NADRA officials insist on the Smart Card which costs Rs400 per person," an official of a civil society organisation said.