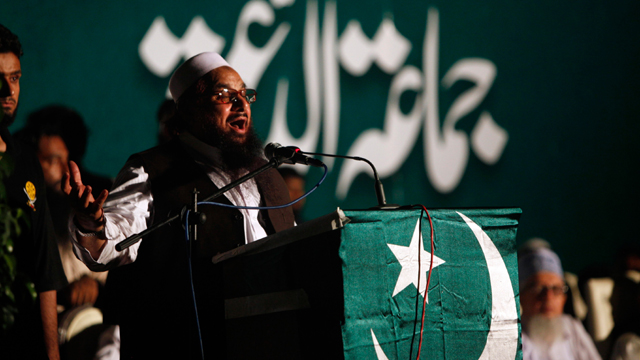 ---
KARACHI: Recently released Jamaat-ud-Dawa (JuD) chief Hafiz Saeed has filed a petition in the United Nations (UN) for the delisting of his name from the UN's list of designated terrorists, learnt The Express Tribune.

In December 2008, Saeed was put on the list of designated terrorists by the United Nations Security Council (UNSC) for his alleged role in the Mumbai 2008 attacks.

US warns of repercussions for Pakistan over Hafiz Saeed's release

Speaking to The Express Tribune, Saeed's spokesperson, Nadeem Awan, confirmed the petition has been filed on behalf of the JuD chief by Supreme Court Advocate Navid Rasul Mirza.

"We were working on this petition since a long time and it was filed to the UN while Hafiz Saeed was still under house arrest," Awan stated.

In January, the government placed Saeed under house arrest for his activities to 'harm peace and security'. His arrest was extended in April and then again in August before being lifted in November.

Barrister Haider Rasul Mirza, of Mirza and Mirza associates, the firm representing Saeed, refused to comment as he could not divulge details of his clients saying it is not under his mandate to do so.

According to the UN, a formal petition can be filed by individuals, groups, undertakings or entities seeking to be removed from the Security Council's al Qaeda Sanctions Committee List can submit their request for delisting to an independent and impartial Ombudsperson who has been appointed by the Secretary-General.

The UN put Saeed on the list pursuant to paragraphs 1 and 2 of resolution 1822 (2008) as "being associated with Lashkar-e-Tayyiba (LeT) (QDe.118) and al Qaeda (QDe.004) for 'participating in the financing, planning, facilitating, preparing or perpetrating of acts of activities by, in conjunction with, under the name of, on behalf or in support of' both entities.'"

JuD chief Hafiz Saeed released from house arrest

LeT and several of its front organisations, leaders, and operatives remain under both the United States State Department and Treasury Department sanctions. Since 2012, the US has offered a $10 million reward for information bringing Saeed to justice.

However, India has failed to provide any concrete evidence to initiate legal proceedings against Saeed, even after repeated insistence from Pakistan.

Last week, during a press briefing Foreign Office Spokesperson Muhammad Faisal refused to comment on Saeed's release stating that the "question pertains to the Ministry of Interior."
COMMENTS
Comments are moderated and generally will be posted if they are on-topic and not abusive.
For more information, please see our Comments FAQ