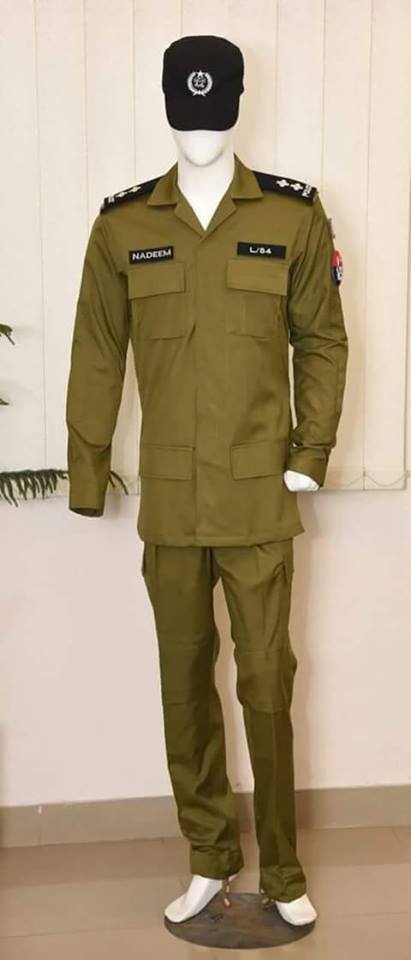 ---
LAHORE: Punjab Inspector General of Police Arif Nawaz Khan issued orders for amendments to the pattern, cap, and badges of ranks of the new olive green uniform of the Punjab Police.

After the introduction of the amendments, police officers can use ranks made of metal and officials below the rank of ASI will be allowed to wear beret cap.

A notification - Amendment in Punjab Police Dress Regulations 2017 - was issued on November 24. It stated that according to the existing pattern of the uniform, "the beret cap shall be worn with the office working dress only in case of constables and head constables."

Police Training: Passing-out parade held

The officers of ASI and above ranks may wear the beret cap with the field working dress. According to the amended pattern, constables and head constables may also wear beret cap with field working dress, same like the officers of the rank of ASI and above.

As far as badges of ranks are concerned, according to the existing pattern, the badges of rank shall be the slip-on type and embroidered with silver thread on the dark olive green fabric, as that of the shirt. After the amended pattern, badges of ranks of silver metal, shall be worn/put-on on the shoulders straps of the shirt, jersey, and jacket instead of slip-on typed embroidered badges of ranks. Similarly, shoulder badges of letters 'POLICE' shall also be worn/put-on of same sliver metal as of badges of metallic ranks, on shirt, jersey, and jacket.

The notification further stated that however, another pattern of the above said uniform articles would remain the same as described in the Punjab Police Dress Regulations 2017 and this office notification and later amendments made therein.

The letter was forwarded to all field and other officers for compliance. The new olive green uniform had attracted a mixed response from the rank and file of police. While it was appreciated by few quarters, many officers, including officers of additional inspector general rank had expressed reservations off the record.

Additional IG Usman Khattack who retired last month, while serving as additional IG training, had worn a new olive green uniform when it was implemented for officers and officials of the Central Police Office. However, when he was given charge of acting IG, he took the charge in old black uniform.

IGP keen on police sentiment over their new uniforms

Khattak was also wearing the same old uniform at the time of his retirement. It was an ironic situation at the ceremony of his retirement when he was wearing an old black uniform while IG Arif Nawaz and other officers of Central Police Office were wearing a new olive green uniform.

To address reservations of police officers and make a better decision, IG Arif Nawaz formed an eight members' committee on September 29.

The committee comprises additional IG Finance and Welfare Muhammad Tahir, DIG RPO Sheikhupura Zulfiqar Hameed, DIG Discipline and Inquiry Punjab Shahzada Sultan, AIG logistics Rai Babar Saeed, CPO Faisalabad Athar Ismail, DPO Rahim Yar Khan Zeeshan Asghar, SP Pothohar Division Rawalpindi Syed Ali and SP Investigation Rajan Pur Saifullah Khan. The committee will submit a comprehensive report to IG for a better decision.

Published in The Express Tribune, November 27th, 2017.
COMMENTS
Comments are moderated and generally will be posted if they are on-topic and not abusive.
For more information, please see our Comments FAQ