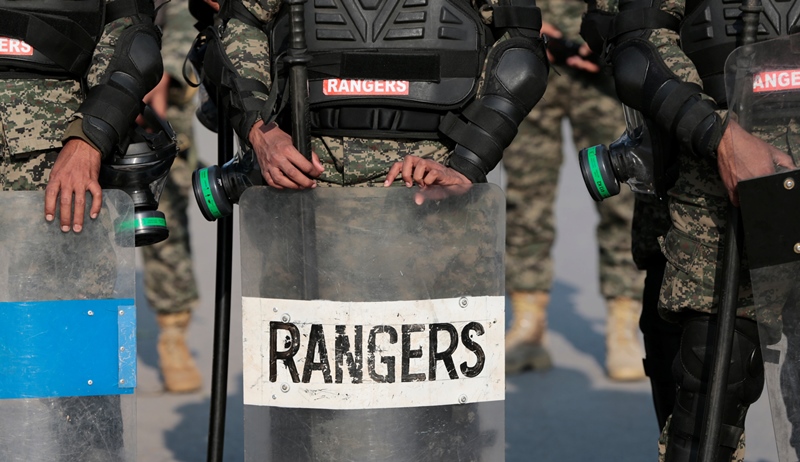 ---
The Pakistan Rangers Punjab took control of the sit-in area at Faizabad Interchange in Islamabad on Sunday morning.

Police and the Frontier Corps (FC) have been deployed at I-8 Markaz, Radio Pakistan reported.

Rangers have also cordoned off the IJP Road, Expressway, Murree Road and the Faisal Avenue.

Protesters are gathered at the sit-in site and listening to the speeches of their leaders. There is no traffic movement in the area of I-8 and Faizabad.

After an abortive operation that began on Saturday to disperse protesters from Faizabad Interchange, the government had called the army to step in to help defuse the situation.

Faizabad sit-in continues: Army ready to act, but seeks 'clarifications' before deployment

On Saturday, a notification issued by the Ministry of Interior had said a sufficient number of troops, to be determined by the Commander of the 111 Brigade, were being deployed in the capital to assist civil authorities in maintaining law and order. The troops have been deployed in aid of civil power under Article 245 of the Constitution and will remain in Islamabad until further order.

In response to the interior ministry, the army said it is fully ready to "perform the assigned task in line with its constitutional obligations a few aspects meriting prior to employment of army".

Fresh violence erupts on Islamabad highway; car, five motorbikes set on fire

The army's statement listed down three key points.

The army pointed out that the police has not been "optimally utilised" while dealing with the protesters of Tehreek-e-Labaik.

It further stated that the Rangers have not been given written instructions for their deployment in contrast to the agreement that a written order would be required for their deployment.

Citing the Islamabad High Court order, the communique also said that the high court had barred the use of firearms against the protestors and calling the army in implies the use of force. The statement has then asked for a clarification on the matter.

A response from the interior ministry on the matter is still awaited.
COMMENTS
Comments are moderated and generally will be posted if they are on-topic and not abusive.
For more information, please see our Comments FAQ