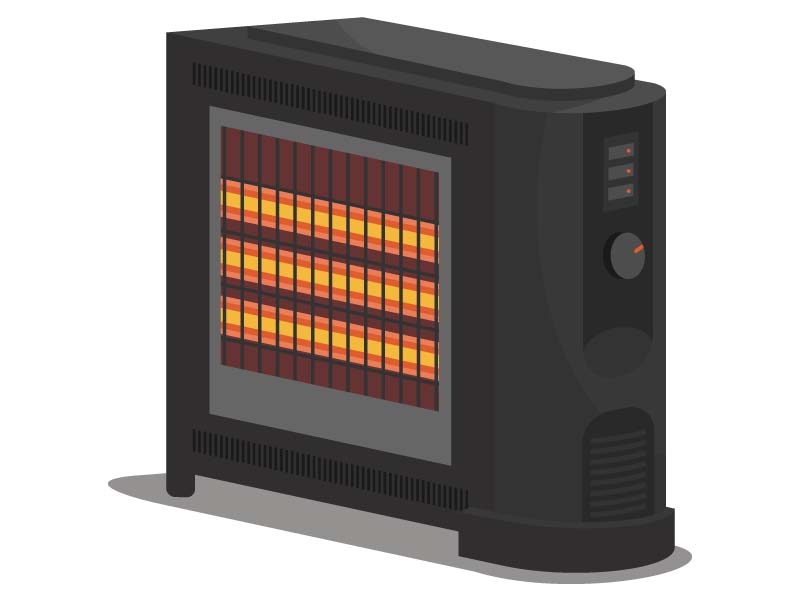 ---
ISLAMABAD: Medical experts have advised citizens to switch off gas heaters before going to bed to avoid risks of fire and casualties, as heater use increases during cold season.

Before going to bed, people should ensure that room heaters are properly switched off and the gas supply is closed at the source to avoid leakages, they said. As majority of the people use gas heaters in airtight rooms during the winter season which might lead to death due to the absence of adequate fresh oxygen intake.

Senior Physician Ahmad Javed said that an individual is rendered completely helpless without feeling the harm thus becoming unconscious during sleep and ultimately die.

"If the level of carbon monoxide in a room goes above the safe levels, people with heart disease may get chest pain or angina," he said adding smokers with heart disease are particularly at risk. "Young children and the elderly may also be affected," he added. He said exposure to high levels of carbon monoxide can cause carbon monoxide poisoning. "Its symptoms include tiredness, shortness of breath, headaches, dizziness, nausea, muscle weakness, confusion while exposure to extremely high levels of carbon monoxide can result in death," he added.

High fire risk in dry winter season

Sleepy death

The threat of asphyxia is very high in the use of gas heaters. Many people have died in sleep due to gas leakage or heater burniong off all oxygen in the room. A newlywed couple suffered a tragedy early this year when the husband died and wife went into coma for the simple fault of leaving gas heater open and no ventilation for fresh air.

According to a report published in The Express Tribune, a 30-year-old man died of suffocation and his wife lost consciousness on January 10, this year due to gas leakage in their house in Satellite Town, the police said. The deceased was identified as Bilal Khalid and his wife as Ayesha Khalid. Ayesha was rushed to Shifa International Hospital, Islamabad, where she was put on a ventilator as her condition was stated to be critical.

The couple had fallen asleep on Sunday night while leaving a gas heater burning. The heater went out at some point due to gas load shedding. The gas leak began when supply resumed later that night. When the couple did not wake up in the morning, family members knocked at the door of their bedroom, but to no avail.

Consequently, they broke the door open and found the couple lying unconscious and the room smelling of natural gas. The matter was not reported to police, the New Town SHO said. A medical expert Dr Akram Durrani advised that people to avoid excessive use of heaters or hot air blowers to save themselves from hazardous effects of various diseases and allergies.

Expert said skin dryness may compound by using heaters and blowers and it could also lead to eye and skin irritations. In case of eyes it may then lead to conjunctivitis while the skin can become itchy and then develop an allergy, the doctor added.

While keeping heaters off may not be possible in the wake of severe cold conditions he advised that a mug of water can be kept near the heater so moisture level of the room is maintained.

Winter to aggravate respiratory ailments

Health expert Aysha Musadiq said people in Rawalpindi and Islamabad have started using gas heaters particularly at night to keep rooms warm oblivious to its hazards for human health. A very few among them are aware of precautionary measures and majority do not bother even if they are aware of these precautions she said.

Health experts believe that number of death and complications can be avoided by making public aware of the preventive measures. Be careful about using gas heater especially if anyone has heart disease asthma or is elderly they concluded.

Bomb in home

A blast caused by a suspected gas leak on January 21 this year had killed at least three people including a newborn girl and a teenaged housemaid in PWD Colony.

According to report published in The Express Tribune police said that Laiq Ahmed, a finance director at private television station, was living in the house with his seven-member family.

Officials said that the family had left the gas heater in the night before falling asleep. During the night, there was an interruption in gas supply but no one turned the heater off.

By morning, gas had accumulated in the house and it exploded at around 6:30 am.

The blast was so intense that it blew out the front façade of the house and caused the roof to collapse.

As a result of the explosion, Ahmed's wife Bakhtawar, their 10-day-old daughter, and a 14-year-old housemaid were killed. Four people, including Ahmed, his son, a daughter, and mother survived with injuries. Ahmed's condition was described as critical while the others were said to be out of danger. Soon after the blast, Rescue 1122, the fire brigade, and bomb disposal squad rushed to the site to rescue the inhabitants.

A few days later on January 28, five people were injured in an explosion caused by gas leak in a house in PWD colony on early Friday morning.

Published in The Express Tribune, November 26th, 2017.
COMMENTS
Comments are moderated and generally will be posted if they are on-topic and not abusive.
For more information, please see our Comments FAQ