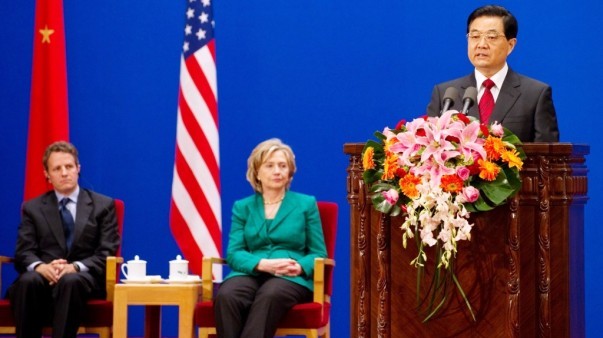 ---
BEIJING: China will adjust its exchange rate policy at its own pace, President Hu Jintao said Monday at the start of talks with the United States over the Chinese currency and other sensitive trade issues.

"China will continue to steadily advance the reform of the formulation mechanism of the renminbi exchange rate under the principle of independent decision-making, controllability and gradual progress," Hu said.

He was speaking at the opening of annual high-level strategic talks with the United States, with the two countries looking to end months of discord over issues such as the value of the yuan, or renminbi. Critics of China's currency policy say it keeps the yuan artificially low to make the country's exports cheaper and more attractive than those of trading rivals.

Speculation had grown recently that China was ready to allow a gradual yuan appreciation but experts say that now looks unlikely as the government will seek exchange rate stability as the European sovereign debt crisis rages. Hu repeated previous government promises that it would work to increase domestic demand something long sought by trading partners such as the United States, which wants to reduce its trade deficit with China.

"China will accelerate the transformation of its economic development pattern," he said. "We will make great efforts to increase domestic demand and increase household consumption, vigorously promote sound and balanced growth of external trade, and reject protectionism in all its manifestations."

Secretary of State Hillary Clinton and Treasury Secretary Timothy Geithner are leading the US delegation at the two-day talks in Beijing with Chinese Vice Premier Wang Qishan and State Councillor Dai Bingguo. Beyond the yuan issue, Washington is concerned about accusations China is skewing its trade and investment climate in favour of domestic companies.

Speaking shortly before Hu, Geithner said both sides should ensure a "level playing field" for trade. He added that the United States would welcome a "more open China" but made no strong public comment on the yuan. Later, after the official talks got under way, he lauded China's leaders for recognising "that reform of the exchange rate is an important part of their broader reform agenda".

The People's Daily, the main print mouthpiece of the ruling Communist Party, argued in a commentary on Monday that a yuan revaluation would not necessarily benefit the United States. "A renminbi appreciation cannot solve the US trade imbalance and it cannot solve the US unemployment problem," it said.
COMMENTS
Comments are moderated and generally will be posted if they are on-topic and not abusive.
For more information, please see our Comments FAQ