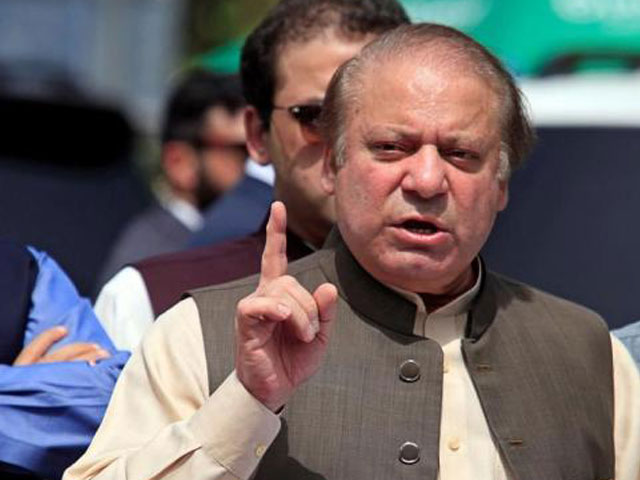 ---
ISLAMABAD: Ousted prime minister Nawaz Sharif, his daughter Maryam Nawaz and son-in-law Captain (retd) Muhammad Safdar appeared in an accountability court in the federal capital on Wednesday as it resumed hearing corruption references filed against them by the National Accountability Bureau (NAB).

The senior leadership of the Pakistan Muslim League-Nawaz (PML-N) and party workers were also present at the court amid tight security.

Disqualified person can head party, rules NA

Last week, Judge Mohammad Bashir had accepted Nawaz Sharif's application for exemption from hearings until November 27.

However, the former prime minister along with his family members appeared before the court today due to a change in their plans. The court had granted them an extension on the grounds that both wanted to see Kulsoom Nawaz, undergoing treatment in the United Kingdom.

According to Express News, Nawaz Sharif and Maryam Nawaz have now filed new applications in the court requesting a change in the exemption period. Maryam now wants that the period of an exemption from appearing in the court should be changed from December 5 this year to January 5, 2018.

The court had summoned four witnesses of the prosecution including Malik Tayyab, Shehbaz, Mazhar Bangash and Rashid in the court today. It is also expected to decide on declaring Hassan Nawaz and Hussain Nawaz proclaimed offenders.

During the hearing, NAB prosecutor Afzal Qureshi traded hot words with the counsel of Nawaz Sharif as the former accused the latter of trying to confuse one of the witnesses.

Sharing his views just before the start of the hearing with the media, the three-time former prime minister said that the ruling PML N has delivered despite frequent sit-ins against it.

The government has not been allowed to work properly and the sit-ins have been going on since 2014. "I'm talking about the PTI sit-in," elaborated Nawaz Sharif.

According to him, the Chief Minister Khyber-Pakhtunkhwa (K-P) also used to attend the 2014 sit-in against the centre along with his official protocol.

"They (PTI leaders) are turning out to be liars," Nawaz said, adding that corruption scandals against Imran Khan, Jahangir Tareen, Aleem Khan have also been public now.

"Judgements in our cases come very early. Don't know how much time will be taken for decisions in their cases," said the former prime minister.

He also claimed that the courts have "double standards" while dealing with their and others' cases.

Sharif, daughter get appearance exemption

"Rules of the game should be equal," he said, "Yardstick is different in our cases."

While referring to remarks of the Supreme Court judges, he said that it was not appropriate for them to use words like "Sicilian Mafia and Godfather".

He was of the view that the recent court judgments affected the economic growth of the country when the PML N government was successfully overcoming issues like terrorism and unemployment along with others.