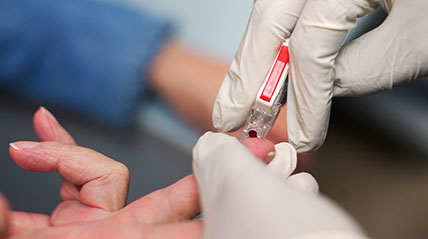 ---
MULTAN: Diabetes is increasing rapidly and around five million people are falling prey to this disease every year.

This was said by Consultant Diabetologist Bilal Afzal while addressing an awareness seminar on 'Women and diabetes' at Women University on Tuesday. Women University Registrar Samina Saleem, teachers and students were present.

Afzal said that diabetes patients could become victim to many serious diseases like heart attack, paralysis and others if precautions were not taken. "Diabetes can be prevented by the treatment of high blood pressure, cholesterol and obesity," he added.

Govt supporting steps for diabetes treatment

He maintained, "Diabetes is the basic reason of many diseases in women. Women should control their sugar level during pregnancy. Those men and women who have the disease of diabetes in their family should test their sugar level regularly."

"A person is believed to have diabetes if his sugar level increases from 126 to 200 after taking meal. Patients of diabetes should focus on their lifestyle. They should take balanced diet, a walk for 40 minutes on a daily basis and they should take medicines properly," he advised.

He lamented that more than 0.72 million females suffered from diabetes and every one female out of seven suffered from the disease during pregnancy.

"Sugar affects the body of the patient silently and if the patient does not try to control it, body parts could be affected like eyes, paralysis, heart attack and improper healing of wounds," he said.

He warned, "Lack of physical exercise, laziness, increase in weight, and change in lifestyle are the main causes of diabetes."

Hope for diabetics: New treatment developed

At the end of the seminar, a walk was arranged for the awareness of diabetes while a camp was inaugurated for creating awareness regarding the disease.

Contrary to the predictions and expectations of the health fraternity and policymakers, more than 26 per cent population of Pakistan is suffering from type 2 diabetes, which means that around 35 to 38 million Pakistanis above the age of 20 years have diabetes, reveals the National Diabetes Survey (NDS) 2016-2017.

Earlier, Baqai Institute of Diabetology and Endocrinology Director Prof Abdul Basit said earlier estimates revealed the number of persons with type 2 diabetes was around 7-8 million or between 7-8 percent in Pakistan and experts were expecting it to touch 15-20 percent by 2040 but shockingly, number of diabetics has already crossed the figure of 26 percent in Pakistan.

He added there are already 19.05 per cent known cases of Diabetes Mellitus in Pakistan and combined with the new cases, prevalence of diabetes is 26.19 percent, which is quite shocking and alarming for the entire nation.

Published in The Express Tribune, November 22nd, 2017.