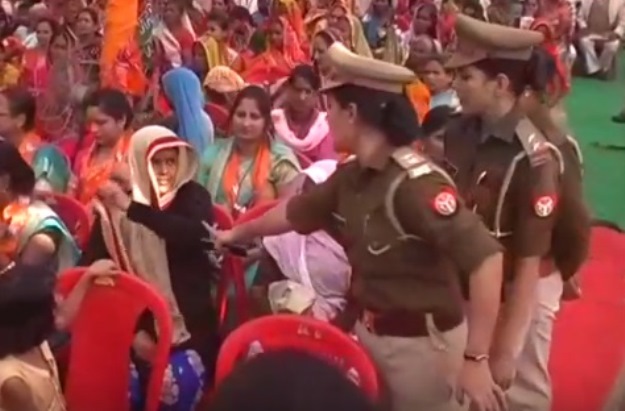 ---
A video has surfaced showing a Muslim woman being forced by female police officers to remove her burqa in the Indian city of Ballia at Uttar Pradesh CM Aditya Nath Yogi's rally on Tuesday.

In the video, three female police officers can bee seen talking to the woman after which she takes off the burqa, Times of India reported.

Then, a male police officer arrives there and takes away the burqa with him.

Burqa-clad woman dragged off bus by London police

In another clipping, the woman, when approached by some journalists, said, "Koi baat nahi, chhoriye (It doesn't matter, let it go)."

The video has drawn the ire of social media users.


The woman is an activist of the ruling BJP and her husband has also remained affiliated with the party for a long time. "The cloth was black... there is perhaps some restriction so I was asked to remove it," she said.

Ballia SP Anil Kumar said that he has no knowledge about the incident. "There was an enclosure near the entry point for checking. Hence, there was no point of asking someone to remove her burqa at the rally," he added. "However, I'll look into the matter."
COMMENTS
Comments are moderated and generally will be posted if they are on-topic and not abusive.
For more information, please see our Comments FAQ