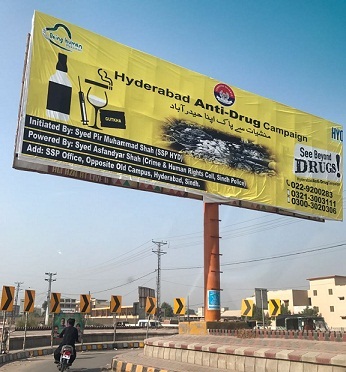 ---
HYDERABAD: After allowing proliferation of billboards in public places for years, the district administration of Hyderabad has finally taken the plunge, asking relevant authorities to remove the public hazard.
Citing the Supreme Court's (SC) May 5, 2016, order Hyderabad Deputy Commissioner (DC) Muhammad Saleem Rajput has written to the municipal and other departments, giving them a week for their removal.

Electoral reforms law challenged in top court

"Else, those shall be removed by the Hyderabad district administration in order to save precious lives of people from accidents," a letter, addressed to the officials of many departments concerned, warned. Rajput referred to the apex court's definition of public places to guide the authorities for the action. These places include roads, sidewalks, islands in the road centre, overhead bridges, underpasses, roundabouts, green belts, drains, pedestrian lanes and bridges.
He added that the authorities had been permitting advertising agencies to place billboards over government properties, public paths and tracks. "But no such fitness parameters are kept in mind about public safety and which is a violation of the apex court's order."
He acknowledged that in the past the sudden collapse of the billboards had caused accidents and traffic congestion.

Roadside eateries, fast food health hazard

The DC also gave an example of Karachi, where after the court's order, around 1,400 billboards had been removed for safety of pedestrians and the vehicular traffic. "Not only do these billboards cause a mess on the landscape visually but also a cause of major clutter and accidents."
He directed the authorities to cancel all permits given to advertising agencies which violate the Supreme Court's order and ensure removal of the heavy metal pillars on which they are fixed.

Residents will not be free to openly defecate in Sindh by 2025

The directives have been given to Hyderabad Municipal Corporation, Qasimabad Municipal Committee, District Council and other municipal authorities, Divisional Superintendent of Pakistan Railways, Superintending Engineer Works and Services, Sindh Building Control Authority Regional Manager, National Highway Authority and Executive Engineer Provincial Highways.
COMMENTS
Comments are moderated and generally will be posted if they are on-topic and not abusive.
For more information, please see our Comments FAQ