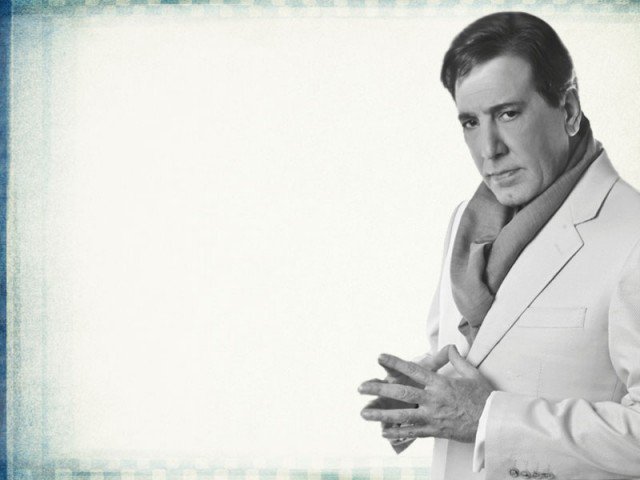 ---
KARACHI: For those of us who came of age in the late 1980s, are unquestionably familiar with Jawed Sheikh and his plethora of work. He has been around for decades and at 60 plus, he is refreshingly unchanged - hair a bit thinned, face slightly fuller, but otherwise, still the same JS. Boyish energy and cheerful cadences still unmoved from four decades on the screen; this is classic JS – a superstar of the highest order.




It's 2017 and JS still offered to hold the door for me and his mannerisms were exemplary. This is typical JS appearing to break the fourth wall of his celebrity status to welcome us. If he has survived all these years in the spotlight relatively intact, it is definitely through a combination of amazing work and his kind approach towards people and life generally.




"As an actor, I think your job is to show up on time. It's the first lesson I learned as a professional actor. You must show up on time," he said. From being part of Pakistan's biggest blockbusters like Na Maloom Afraad, Wrong No., Jawani Phir Nahi Ani to working with Bollywood superstars like Shahrukh Khan, Salman Khan, Akshay Kumar and Ranbir Kapoor in Tamasha, there isn't anything that JS hasn't excelled at.

https://www.instagram.com/p/BZN4pcFlErt/?taken-by=momal15

Words melted out from his soul in a revealing interview with The Express Tribune as he divulged out his days of struggle, his return to the film scene and his turbulent marriage with Salma Agha.




ET: What was your first film? How did you land that role?

JS: Back in 1974, I was doing small roles on radio and theatre and was friends with one of the cameramen, Madad Ali Madad. He asked me to go for an audition and I did. There were many others there and I didn't have any expectations of getting selected either. Amar Ali Zaidi, the Salgirah famed director liked my audition and selected me for the lead role of his film. The film titled Dhamaka was written by Ibn-e-Safi and produced by Mohammed Hassan Talpur.  I was paired with Shabnam, one of the best heroines of that time. That's how my journey to stardom started.




ET: Have you had any bad experiences in the industry since you first started?

JS: My first film Dhamaka was a flop, but I still managed to get another offer from Zahid Shah. It was for a supporting role so I was doubtful about accepting the offer. Shafi Mohammed who was cast as the lead actor in Zahid's film said that we should just enjoy working together so I agreed. However, on the sixth day of filming I was replaced by Faisal Rehman. A distributor from Punjab Popular Films was against my selection because of my previous flop and had threatened to not buy the film if I was not removed. I felt horrible and frustrated and it's something that I still cannot forget.

ET: How did you cope with that incident that made you the star you are today?

JS: I was disappointed after being replaced from Zahid's film but I didn't give up. I continued theatre and in 1982, after nine long years, Shoaib Mansoor cast me in his drama, Ankahi. The drama received acclamation from all around the world and took me to new heights. It helped me score a lead role in Nazar Shabab's film Kabhi Alvida Na Kehna. I was then offered a film by his brother, Zafar Shabab after which offers came pouring in one after the other. All of them proved to be hits and I became a superstar.




ET: What is the biggest compliment you have received so far?  

JS: I was in London shooting Hassan Askari's film Hum Aur Tum with Salma Agha in 1985. Salma's mother hosted a reception in honour of the great legend Dilip Kumar where notable names from the Indian fraternity were present. I was invited and introduced to Dilip Sahab who stood up and welcomed me with a warm hug. He said "I know you very well. You have done tremendous work in Ankahi  - so much so that Saira and I binge-watched all 13 episodes in one night." That's the biggest compliment I've ever received in my life.




ET: Were you offered an Indian film then?

JS: I have cooperated with all my producers and directors in every way I could, and have worked with dignity and passion in both Pakistan and India. It's a record for me that I've never asked for a role abroad because I was already established in Pakistan, but Indians saw my work and liked it and hence offered me roles in their films. I got married to Salma Agha and was with her most of the time in Bombay – not for the films but to stay with my wife then. I met Rakesh Roshan who offered me a lead role opposite Rekha in his film Khoon Bhari Mang. Everything was finalised but Salma was unhappy about me working in Rakesh's film and romancing Rekha. Her strange reaction made me cancel the film contract and I thought this would also avoid any potential gossip stating that I was staying with her to find roles in Indian cinema. Our marriage then hit a rough patch and I had no reason to stay in Bombay anymore.




ET: Are you a romantic person by nature?

JS: Yes, undoubtedly I am (laughs).

ET: You've been a part of many scandals. Is there any truth to those "rumours"?

JS: I had many scandals back then and I never tried to hide anything. I was married to Salma but my name was also paired with actors Neeli and Sana. However, I never denied those affairs because they did happen. People usually deny such things but I don't need to. I was romantically involved with them and I don't need to shy away from accepting that.




ET: There is a popular saying 'scandals bring fame'. Do you think your fame index shot up after every scandal?

JS: All the rumours that people heard were true but I was already a superstar by the grace of Allah and never needed the support of any such scandal or link-up to get famous. It may have served the ones I had affairs with but I have tried not to hurt or harm anyone in any way.

ET: How has your experience been in the Bollywood industry so far?

JS: My last film was Tamasha by Imtiaz Ali where I played Ranbir Kapoor's father. I find the Bollywood industry extremely professional and I am trying to introduce the same practice here.

ET: So far Pakistani films have failed to do well in India. Do you think Pakistan's films are not readily accepted there?

JS: Pakistani films are very well received in India. I attended the premiere of Shoaib Mansoor's Khuda Kay Liye and the film was warmly welcomed from the Indian audiences. Even Ramesh Sippy, the Sholay famed director said, "I wish I could make a film like this." Our films do well in India but only if they are screened there and unfortunately, that is not happening. We have good stories and talented artists that make for a complete package and moviegoers in India love to watch Pakistani films. However, they are unable to do so due to the ban imposed by their government.


Painted another brick today in Prague for the love of Pakistan pic.twitter.com/pVKRwSTJen

— Jawed Sheikh (@iamjawedsheikh) July 16, 2017


ET: Do you think that Bollywood movies should be banned in Pakistan then?

JS: The question is rather political. There is nothing wrong with screening Bollywood movies in Pakistan but I believe India should allow screening our movies too. Nowadays, there's a tit-for-tat reaction to everything but I believe there should be a bilateral agreement between the countries on free cinema environment. It will help the countries learn from each other as well.




ET: Do you believe Pakistani films are of relatively lower quality as compared to Indian films?

JS: No, I don't believe that to be true at all. Things are changing now and the quality of our films has improved drastically, which I'm very proud of.




ET: India is advancing with regards to special effects in their movies. Do you think Pakistan too should start incorporating such techniques?

JS: Special effects are vital for our films. It has already been introduced to the industry and Pakistan can produce excellent quality as compared to many others. Many film-makers from Hollywood are seeking help from Pakistanis who have learnt this skill. 25% of Hollywood's animations are being made in Pakistan. We use the same equipment that India does and we possess technical expertise as well, so why should we stay back?

ET: Do you think we have producers who would be willing to invest as massively as Bollywood producers? 

JS:  We have been producing low budget films for quite some time and there are still many things that do not work in our favour. High cost production cannot be done overnight, but I also believe that we have not compromised on the quality so I am hoping for the best.

ET: So you have started directing films again after almost 10 years.  What brought you back to direction?

JS: Film-making demands a lot of time and effort. I was at the height of my career and consumed with acting, which is why I was unable to make time for film direction. Nevertheless, I am back with Wajood now and looking forward to making more films.

ET: Do you think film-making is a profitable business? How do you see the future of Pakistan's movie industry?

JS: Film-making is a highly profitable business but at the same time, it is unpredictable too. Three out of my seven films flopped miserably at the box office and I suffered major losses but that's something that happens with every director. I'm a firm believer that the future of Pakistani cinema is very bright and it will prosper further in the years to come InshAllah.


Have something to add to the story? Share in the comments below.
COMMENTS (1)
Comments are moderated and generally will be posted if they are on-topic and not abusive.
For more information, please see our Comments FAQ