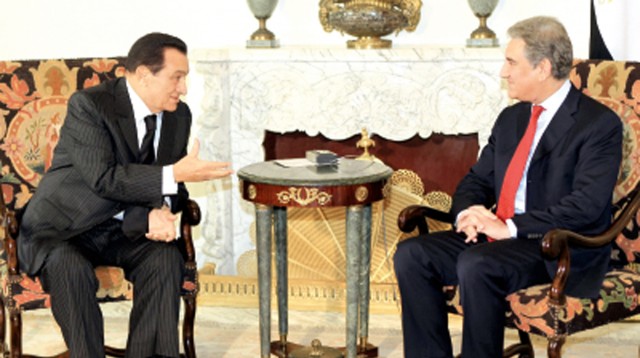 ---
CAIRO: Foreign Minister Shah Mahmood Qureshi met President Hosni Mubarak on Sunday, during a visit to Cairo at the invitation of the Egyptian government to cochair the third session of the Pakistan-Egypt Joint Ministerial Commission.

The minister, who was accompanied on his trip by several ministers and a large delegation of businessmen, praised the "excellent" relations between Pakistan and Egypt, the official MENA news agency reported. During talks with his Egyptian counterpart Ahmed Abul Gheit on Saturday, the two diplomats agreed to set up a ministerial level committee that would meet every two years to oversee bilateral trade, Qureshi told MENA. The talks focused on "exploring new trade opportunities between the two countries, including exporting Pakistani wheat as well as medical and surgical equipment to Egypt," MENA said.

The two sides also looked into exporting Egyptian goods to Pakistan, including fertilisers. The annual volume of trade between Egypt and Pakistan currently stands at four million dollars, according to MENA. The next session of the Joint Ministerial Commission will be held in Islamabad.

Published in the Express Tribune, May 24th, 2010.
COMMENTS
Comments are moderated and generally will be posted if they are on-topic and not abusive.
For more information, please see our Comments FAQ