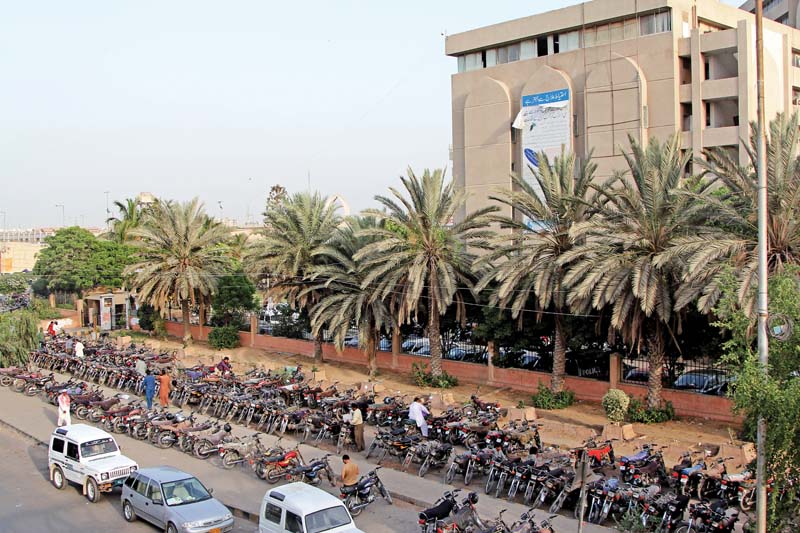 ---
KARACHI: The Sindh High Court (SHC) observed on Wednesday that the no one can be allowed to illegally collect parking fee in the absence of legislation, as it extended the earlier stay restraining the Karachi Cantonment Board (KCB) from levying any fee at eight specified locations till further orders.

A two-judge bench, headed by Justice Irfan Saadat Khan, also sought comments from the parties in respect to the collection of parking fee in Clifton and other areas by December 6.

The bench was hearing a petition of the Sea Breeze Plaza Residents Welfare Association challenging the awarding of a contract by the KCB to a private contractor and collection of parking fee from motorists.

According to the authority letter, the contractor was authorised to collect the fee on Sarwar Shaheed Road, Sabir Baig Shaheed Road, Raja Ghazanfar Ali Khan Road, Aziz Bhatti Shaheed Road, Saghir Hussain Shaheed Road, Kiayani Shaheed Road, Sharae Faisal (from Faisal Bank to Dadabhoy Centre) and Abbasi Shaheed Road.

Saddar needs multi-storey parking plaza

The petitioners' lawyer, Salahuddin Gandapur, argued that the KCB had no authority to charge or collect the parking fee in view of the law laid down by the court in which it was held that a fee could not be levied by any governmental agency without an appropriate legislative authority. Since there was no provision in the Cantonment Act, 1924, empowering the board to charge the parking fee, collecting the parking fee was without lawful authority, he argued. The lawyer noted that a high court decision in this respect was upheld by the Supreme Court.

On November 5 last year, the judges had restrained the cantonment board from charging or collecting any amount from vehicles owners as parking fee in respect to eight locations specified in the cantonment board's letter.

During Wednesday's proceedings, the cantonment board's lawyer informed the judges that the KCB had withdrawn its notification regarding awarding of contracts for the collection of parking fee by a private contractor.

The judges observed that no one could be allowed to illegally collect fee on parking in the absence of legislation. Therefore, they extended the earlier stay order against the collection of the parking fee till December 6.

'No plans for charged parking in capital'

In the meantime, the bench also issued notices to the parties in a case regarding awarding of the contract for the collection of parking fee in Clifton and other localities. They were told to file their comments by the next date of the hearing.
COMMENTS
Comments are moderated and generally will be posted if they are on-topic and not abusive.
For more information, please see our Comments FAQ