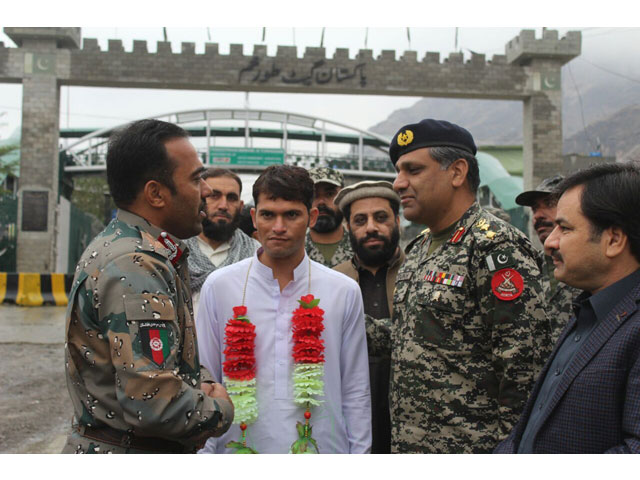 ---
Frontier Corps (FC) authorities handed over on Wednesday an Afghan soldier who had entered Pakistan illegally a month ago.

Security forces apprehended Zabihullah from Kurram agency after he entered the area from the Karlachi border.

FC Commandant Colonel Farrukh Humayon and officials of the political administration were present during the handing-over. Colonel Nisar represented the Afghan side on the occasion.

The move comes two days after two Pakistani servicemen were killed in a cross-border attack from Afghanistan.

Kabul must take on terrorists, envoy told

On Monday, military's media wing Inter-Services Public Relations (ISPR) said said absence of the Afghan government's writ in its border regions, like in many other areas of the country, facilitated terrorists in carrying out such attacks.

Pakistani officials have repeatedly said that the Taliban terrorists, who fled a series of military operations in tribal regions, have found safe havens in northern, eastern and northeastern Afghanistan.

These Taliban terrorists use their sanctuaries as a springboard for launching cross-border attacks on Pakistani military's border posts and on civilian population.